(Also read: "Q&A With Schwartz and Savage.")
The gurus behind "Chuck" and "Gossip Girl" are getting together to build a Fake Empire.
Writer-producers Josh Schwartz and Stephanie Savage, who've been collaborating since "The O.C.," have now officially hooked up to form a multimedia company they're dubbing Fake Empire.
The duo have signed a new multiyear development and production deal with Warner Bros. TV for their small-screen efforts, with plans to produce content for film, the Internet, music and publishing as well.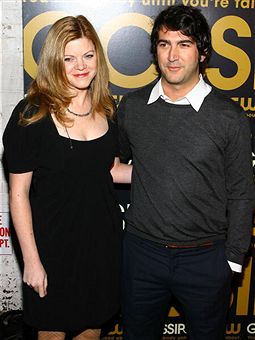 Fake Empire, based on the Warners lot, will work to create content that reflects Schwartz and Savage's desire to focus on contemporary culture for a young audience. After working together on the Schwartz-created "O.C.," the two went on to create "Gossip Girl" for Warners and the CW.
They've also worked together to help guide the musical directions on both shows.
Now, the studio will look to them to serve as a major supplier of programming beyond projects they personally create — not unlike other tentpole players at Warner, such as Jerry Bruckheimer TV and J.J. Abrams' Bad Robot.
Peter Roth, president of WBTV, said the studio was happy to continue its "long and highly successful relationship" with Schwartz and Savage.
"Josh and Stephanie are an outstanding creative team, responsible for two of the most iconic television series in recent history in 'Gossip Girl' and 'The O.C.,'" Roth said.
Schwartz noted that he and Savage have had an ever-evolving creative partnership since 2003, when he became one of the youngest people to create and run a primetime series for American network TV.
"Stephanie started out as kinda my boss on 'The O.C.,' crossing her arms while making me write and timing my naps," Schwartz said. "Then I got to be kinda her boss on 'Gossip Girl,' watching her develop from a great producer to a terrific writer. We've both been able to help each other grow and bring our ideas from the page to the screen."
Savage added that she and Schwartz "have a unique relationship where we can wear different hats with each other. It's not about job descriptions, it's about collaborating on a shared vision and trying to connect with an audience."
Schwartz and Savage said they were glad to have Roth's "passion and guidance" helping launch Fake Empire, and promised to make their domain hospitable to ink-stained wretches.
"Needless to say, it will be a writer-friendly and writer-driven company," Schwartz said.
In addition to "The O.C." and "Gossip Girl," and a comedy pilot in the works at CBS, Schwartz co-created NBC's "Chuck" (with Chris Fedak) and the online drama "Rockville CA," both via WBTV. His feature slate includes writing the upcoming "X-Men: First Class" and both writing and directing a new take on "Bright Lights, Big City." (Savage is producing the latter project).
Savage, meanwhile, last teamed with McG to form Wonderland Sound and Vision, having previously served as VP of development for Drew Barrymore's Flower Films. Her film resume includes helping develop features such as "Never Been Kissed," "Donnie Darko" and "Charlie's Angels" and its sequel.
As a writer, Savage got her start by helping develop "The O.C." and then writing the episode "The Best Chrismukkah Ever" (her first TV script). She rose to executive producer on "O.C." and went on to co-create "Gossip."
The Fake Empire deal was put together by William Morris Endeavor and attorney Joel McKuin.