He might not know karate, but Adam Sandler managed to hold off the martial arts themed epic "The Last Airbender" last week on the DVD sales and rental charts. Sandler's "Grown Ups was the most rented movie, according to Rentrak.
In it's second week of release, however, the comedy hit had to settle for fifth place on the DVD sales charts. Released on disc almost a year after it rang up so-so Yuletide receipts, Disney's "A Christmas Carol" took advantage of the holiday spirit to move the most DVDs last week. Featuring an animatronic Jim Carrey, "Carol" was the week's seventh most rented film.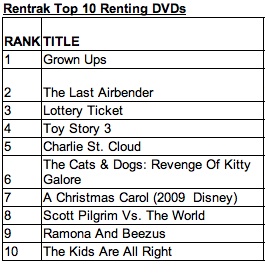 Critically derided "Airbender" took second place on both the sales and rental charts. The week's other debuts, "Lottery Ticket" and "Cats & Dogs 2," nabbed the third and sixth spot on the rental charts respectively. Neither kiddie themed "Cats" nor urban comedy "Lottery Ticket" were strong sellers, as the week's sixth and eight best-selling discs.
Oscar front runner "The Kids Are Alright" was the tenth most rented disc, but failed to make the sales chart in its first week of release.
Next week brings the DVD debuts of Sylvester Stallone's steroidal heroes in winter thriller "The Expendables" and Julia Roberts' carb-loving rom-com "Eat Pray Love."