Hollywood loves a happy ending. But what's even better is a cheery present. And the present, of late, has given Hollywood much to be giddy about in an increasingly bleak economic environment.
As if mirroring the trend of the Great Depression, the movie box office has soared in the past several months, reversing the arc of recent years in which movies in theaters have struggled to maintain their market share against DVDs and the Internet and declining audience interest.

Unfortunately, it turns out that a recession is just what the box office needed.

Escapist fare such as "Paul Blart: Mall Cop," and "Tyler Perry's Madea Goes to Jail," have led the box office to revenues that were unhoped-for just a few months ago. As many mainstream outlets are reporting, mid-March revenues are up 18 percent over last year and — even more amazingly — once-laggard attendance is shooting up 15 percent.

As recently as the end of 2008, statistics showed attendance dropping by 5 percent. Indeed, attendance had been down every year since 2002.

Now, with the possible exception of the Jonas Brothers 3D concert movie, people are going to see just about everything.
"People are certainly in need of something, and the movies seem to be providing it," said Marc Shmuger, the chairman of Universal Pictures. "The pictures being offered are clearly providing a compelling choice for people, and they're responding by showing up in record numbers."
Shmuger and others noted that even movies with dark storylines — "Watchmen," "Coraline" or even the kidnap movie "Taken" — are finding avid audiences.
"I'm struck by how diverse the pictures are across a very broad range that the audience is responding to," he said.
This doesn't seem like a coincidence; the box office seems to get better as the evening news gets worse. But unlike in the first Great Depression — when Americans would cough up 27 cents to watch Fred and Ginger dance — the bad news isn't necessarily good news for Hollywood moguls and their employees.

That's because today, movie studios are small divisions in much larger conglomerates. And the stock prices of their parent companies are wallowing in historic lows. So what is happening is a strange intersection: a thriving box office, along with serial layoffs at movie companies.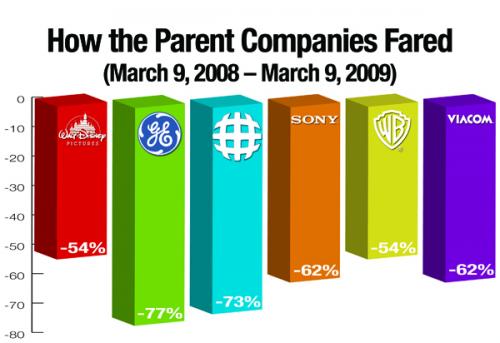 Disney stock is worth half of its value of just 12 months ago and GE, the blue chip stock that sold for $32 per share a year ago, is now trading at an abysmal $7.41. Time Warner — whose stock price is $7.10 — laid off 800 employees beginning in February, while Sony – whose stock $17.50 — just pink- slipped 300 workers at the studio this month.
Brad Ruderman of Ruderman Capital Investments noted that stocks like Time Warner have never been cheaper, yet no one is buying. "It's almost like good news is bad news and bad news is worse. Obviously, we're in such a depressed state that everybody is skeptical, everybody is scared."
Ruderman said the box office has never influenced stock prices for studios' parent companies. "Harry Potter" is a multi-billion-dollar franchise, he noted, but its success never influenced Time-Warner stock.
For smaller companies like DreamWorks and Lionsgate, box-office returns do affect stock prices but in the end do not produce long-lasting results.
Chris Aronson, Twentieth Century Fox's senior vice president and general sales manager, pointed out that even a booming box office can't make up for rock-bottom ad sales, a major hurdle facing vertically integrated companies.
"The reason why the media companies are hurting is advertising revenues, which are separate from the movie business. For a company like Fox, which is heavily invested in newspapers and TV, advertising revenues have dipped precipitously. The film entertainment group is doing just fine," he said.
Shmuger, chairman of Universal Pictures, is well aware that his studio's movies are just a fraction of GE's vast business. However, he said his focus remains on his own business, not the parent company's stock price.
"We need to deliver our bottom line, our successful slate. To take care of the issues specific to our industry and our company," he said.
GE has "continued to provide us the support to run our company successfully," he added. "It's up to us to run our company with focus and enthusiasm, irrespective of all other facts."
Traditionally the post-Oscar doldrums is the weakest time of the year for the box office. But Aronson said that things show no signs of slowing through April, although very few major films will be opening before early May.
"The later side of April looks a little weak, but that's not unusual," he said. "It'll get bigger or at least hold its own."
Major releases in the next six weeks include only a few big titles, among them "Monsters vs. Aliens" from DreamWorks on March 27; "Fast & the Furious" on April 1 and Disney's "Hannah Montana The Movie" to be released April 8. (For a rundown of the major releases scheduled from now through May, click here.)
Not until May will the studios will begin to stake their big tentpole films such as "Wolverine," "Star Trek," "Angels & Demons," and "Terminator Salvation."
"Clearly the American public keeps saying they want to be entertained, they want to go out," said one box office analyst. "It's still a potent combination: good movies and bad times."
Sharon Waxman contributed reporting to this story.