Women moviegoers turned out in force to help Melissa McCarthy and Sandra Bullock's "The Heat" beat up Channing Tatum and Jamie Foxx's "White House Down" at the box office this weekend.
But Sully and Mike, best buddies in Disney's "Monsters University," topped them all.
The 3D Pixar family film repeated as the top movie at the domestic box office with an estimated $46 million three-day total, topping Fox's female buddy cop comedy which debuted with a better-than-expected $40 million. The prequel to "Monsters Inc.," with voice stars Billy Crystal and John Goodman, has now taken in $171 million since opening last week and crossed the $300 million mark at the worldwide box office this weekend.
The weekend's other wide opener, "White House Down," finished a disappointing fourth behind "World War Z" with $25.7 million. It's potentially a big loss for Sony, given the $150 million budget of the Roland Emmerich-directed action film.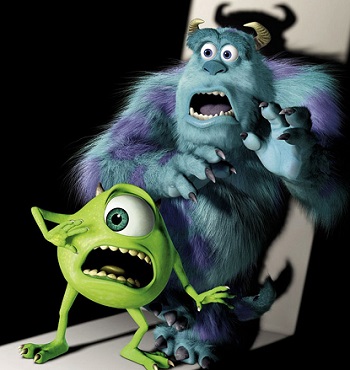 Brad Pitt's zombie thriller "World War Z" brought in around $30 million in its second week, and with "Man of Steel" adding $20.8 million from a market-high 4,131 theaters, it meant that five movies topped $20 million for the weekend. Warner Bros.' Superman sequel crossed the $500 million mark at the worldwide box office this weekend.
See photos: The Evolution of the Female Comedy
Fox's "The Heat" is the summer's first – and only – big movie with female leads. Its $40 million total is about $5 million more than analysts had projected for the R-rated caper comedy.
"We had a lot of confidence in this movie and it's great to see it borne out," Fox's head of distribution Chris Aronson told TheWrap Sunday. "We marketed it almost solely to women and it worked."
Sixty-five percent of the audience was female and 67 percent over the age of 25. Moviegoers gave it an "A-" CinemaScore.
Fox's decision to move "The Heat" from its April date looks pretty good now, too.
"We thought we could provide an alternative for women, who had been underserved all summer," Aronson said, "and this also left more breathing room between this and Melissa's last one."
It was the biggest opening ever for director Paul Feig, McCarthy and Bullock.
It beats the debut of McCarthy's "Identity Thief," which opened to $34 million in February and remains the year's top-earning comedy with $135 million domestically. And "The Heat" opening is better than that of "Bridesmaids," the similarly raunchy 2011 comedy that also teamed Feig and McCarthy. That one bowed to $26 million and went on to make $169 million domestically. Bullock's previous best debut was "The Blind Side," which debuted to $34 million in 2009.
Also read: Will 'The Heat' Fuel the Fire for More Female Buddy Movies?
The opening for "White House Down" is about $10 million less than analysts had projected, and ranks among the worst major openings for Emmerich, who's had big debuts with apocalyptic epics before, including 2009's "2012" ($65 million), 2004's "The Day After Tomorrow" ($68 million) and 1996's "Independence Day ($50 million).
The opening weeked audience, 51 percent male and 39 percent under 25, gave the film an "A-" CinemaScore offering hope that word of mouth will help in the weeks ahead. It begins the bulk of its foreign rollout later this month, and that becomes critical now.
It's hard to gauge how much "White House Down" was hurt by the similarly-themed "Olympus Has Fallen," but it couldn't have helped. That president-in-peril movie has taken in nearly $100 million since March for FilmDistrict. The presence of competing action films "World War Z" and "Man of Steel" probably took a bigger toll.
It's the second disappointment of the summer for Sony, which saw the $130 million Will and Jaden Smith sci-fi adventure "After Earth" sputter in its debut in May.
After bringing in $29.8 million from 3,607 theaters, the domestic total for Paramount's "World War Z" is at $123 million. It retained roughly 55 percent of its first-week audience, no small feat given the crowded markeplace.
Sony's "This is the End" and Summit Entertainment's "Now You See Me" both held very strongly for sixth and seventh, with the latter, a magic-themed heist thriller, crossing the $100 million mark in its fifth week.
Seth Rogen's R-rated comedy, "This is the End," took in $8.7 million Friday, off just 35 percent from last week, despite dropping 345 theaters to 2,710, and has now taken in nearly $75 million domestically.
"Now You See Me" took in $5.5 million from 2,564 locations, 259 fewer than last week, and still fell just 28 percent from last week. Its domestic total is now $104.6 million and it has added another $48.7 million from overseas.
Universal's "Fast & Furious 6," Paramount's "Star Trek Into Darkness" and the Fox comedy "The Internship" rounded out the top 10.