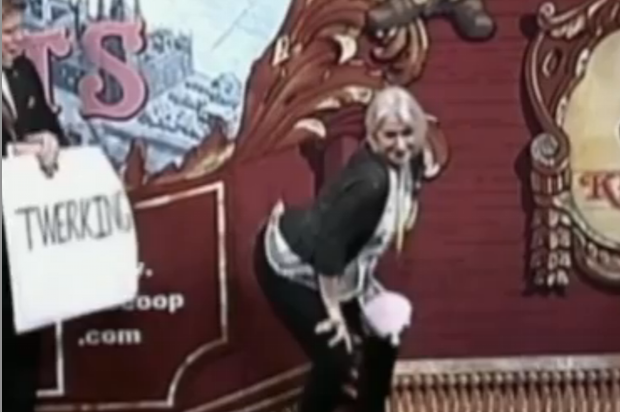 Oscar-winner Helen Mirren is giving Miley Cyrus a run for her money-maker.
The 68-year old star of "The Queen" shed her regal persona Thursday while accepting the Hasty Pudding Theatricals "Woman of the Year" award. The celebration of the actress at Harvard University involved a parade through the streets of Cambridge and, to top it off, a game of charades.
As part of the festivities, Mirren was made to mime "twerking" — the dance that landed Cyrus in hot water last year  at the VMAs when she grinded suggestively with a bunch of people in bear costumes while wearing a skin-colored bathing suit.
Also read: Sienna Miller Poses Topless, Admits 'I Burned a Lot of Bridges'
Although Mirren at first tried to shrug off suggestions that she show off her moves, she eventually gave a spirited performance.
Believe it or not, it was not her first twerk.
"I've tried in my bedroom, in private, in front of the mirror, very unsuccessfully, so absolutely humiliating to have to do it in public in front of a whole load of people," she told the press after the event.
Somehow, even when shaking her rear, Mirren manages to maintain a sense of dignity.
We bet she'd make an incredible "Hannah Montana."
Watch the video: