It's no surprise that the Toronto International Film Festival launched its 35th edition on Thursday night with a Canadian film, or that the red carpet outside Roy Thomson Hall in downtown Toronto was heavy on homegrown talent.
Historically, TIFF has usually showcased a Canadian film as its opening-night gala. This year, there was huge speculation that the choice would be "Barney's Version," a Robert Lantos-produced opus based on the beloved novel by Canadian icon Mordecai Richler.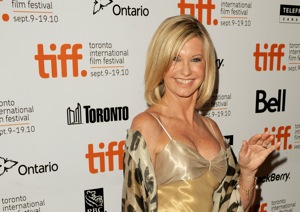 But the actual choice did turn out to be a surprise. A musical about hockey – called, appropriately, "Score: A Hockey Musical" – opened the fest, while "Barney's Version" was relegated to the Special Presentation category.
The opening-night film, as Canadian as maple syrup, drew festivalgoers and a smattering of celebs to a domed hall in downtown Toronto, a curvilinear glass-fronted edifice surrounded on two sides by old, historic structures and on the other two by the gleaming new towers of downtown Toronto.
The gala had little of the pomp and hysteria of a Hollywood premiere. The red carpet ran for about 150 feet inside a white tent designed to protect its occupants in case of inclement weather. (It was chilly, but not rainy.) Canadian pop icon Olivia Newton-John (above; photo by Getty Images) worked the line until it was time for the film to start, and the star power was sufficiently modest that singer Nelly Furtado, the last to arrive, prompted a chorus of shrieks and screams from a small crowd clustered politely on the far side of a barricade.
As for the film itself … Admittedly, getting my head around the idea of a Canadian hockey musical with Olivia Newton-John was more than a little difficult. After seeing "Score: A Hockey Musical," I struggle to think of who else will want to see it.
It's not that it's bad, though hockey purists will be outraged and musical lovers will step back in horror. But I smiled throughout the film – perhaps at its daring, perhaps at the manner in which it merges the sort of comedy we have seen this year on "Glee" with Canada's national obsession. It has a goofy charm that might carry it through to an audience who appreciate the film for what it is. Film buffs may enjoy the Busby Berkley-on-ice antics, and as always, Canadian actor Stephen McHattie is terrific.
Premiering Friday night at TIFF is "Stone", a new work from John Curran ("The Painted Veil"). It features Robert De Niro as a parole counselor, sort of the last step before the prisoner goes before the board to be granted or denied parole, and Edward Norton as a prisoner who calls himself Stone.
Despite some powerhouse work from Norton, who seems all geared up to give a brilliant performance, it's full of every prison movie cliche we have ever seen — and has so many many loose ends by the conclusion I found myself wondering what attracted the two actors to the film in the first place.
One can see Norton working the role and trying to find something to grab onto – which, for the most part, he does. De Niro, though, seems adrift, lost and in need of a director. When De Niro's character does something completely foolish and unprofessional, one could sense the audience wanting to shout at him, hoping to wake the character up and save him from disaster.
Norton, incidentally, will be back at TIFF on Tuesday night in another marquee role: He'll interview Bruce Springsteen for one of the festival's "Mavericks" conversations.
(Steve Pond contributed to this article.)