Halfway through the year, the foreign box office is booming, but Hollywood's top blockbusters aren't doing nearly the business abroad that they were a year ago.
The top 20 movies at the international box office grossed 13 percent less through mid-year — to the tune of $4.81 billion — than the $5.54 billion that the top films earned during the same period last year, according to global box-office tracker The Numbers.
Because this tally includes only the biggest films, it provides just a snapshot rather than a complete picture of the nearly $24 billion international market, and several of this year's top films are still playing. But with foreign grosses now typically accounting for around 70 percent of a major film's grosses, it's something the studios are keeping an eye on.
Box office watchers point to two big differences this year: The growing importance of Chinese-made movies, and top hits that couldn't quite match the firepower of last year's mid-year leaders, starting with "Marvel's The Avengers."
Exhibitor Relations vice president and senior analyst Jeff Bock said these variations are "cyclical" — and last year's "Avengers" "really was a phenomenon."
The top of the chart tells the story: This year's biggest movie at midyear, "Iron Man 3," fell 10 percent short of "Marvel's The Avengers," its sort-of-sequel and this year's top film. And it wasn't the only one overshadowed by its 2012 counterpart.
The top 10 movies have brought in $3.09 billion in the first six months of this year, 21.5 percent less than the $3.96 billion their counterparts grossed through June 2012.
What might be worth watching, Bock said, is whether this reflects a cooling among foreign moviegoers toward 3D. "If foreign moviegoers start getting as tired of it as we are here, it will hurt."
Fourteen of the 17 U.S. movies in the top 20 were released in 3D abroad, where the format is still novel and moviegoes are more apt to ante up for higher-priced tickets.
Also read: Summer Box Office Up 13 Percent: How Hollywood's Big Bet Is Paying Off
Chinese films are definitely making a mark. Three films produced in China — "So Young," "Journey to the West: Conquering the Demons" and "Lost in Thailand" — cracked the top 20 films for the year's first half. None did last year.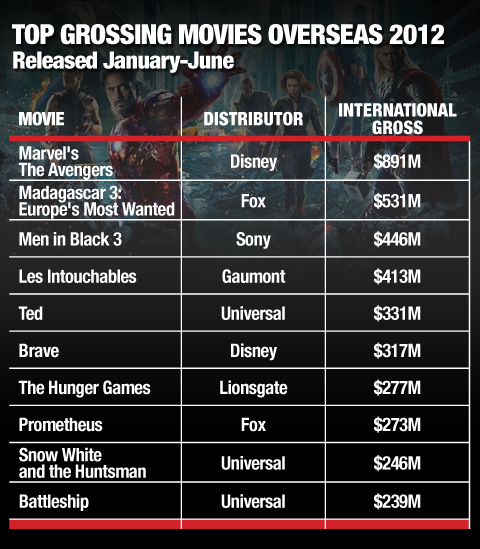 It's not that the Chinese are exporting hits — all three did nearly all their business at home — but they're doing enough domestically to make the list of leaders. The Chinese box office grew by 36 percent to become the No. 2 global film market in 2012, and it is still expanding.
Also read: How China Is Driving Its Own Box-Office Boom
"We've seen this huge expansion in the Chinese market over the past few years and that created a huge need for content," said Bruce Nash, founder of The Numbers.
"Initially, it was Hollywood that was filling it, but Chinese filmmakers are adapting and starting to make movies that have a great deal of appeal.
"If Hollywood wants to stay dominant in that market, it won't be enough to just wait for another 'Avengers,'" Nash said. "It might be partnering with Chinese studios and filmmakers, or making films that really do play to Chinese sensibilities, but they'll have to do something different. And it's clear now they'll have to compete with the Chinese themselves."
China's "Journey to the West" was the first half's highest-grossing non-U.S. movie, with $207 million. That's about half of the $413 million that France's "The Untouchables" grossed internationally in the first six months of 2012.
In terms of distributors, the wealth was spread around. Warner Bros. and Paramount had four films each in the top 20, while Disney, Fox and Universal each had three. The No. 5 movie, "Oz the Great and Powerful," gave Disney a second film in the top five.
Conventional wisdom says U.S. comedies don't translate at the foreign box office and that was true in the first six months of this year. The lone comedy to make this list is Warner Bros.' "The Hangover Part III," which has brought in $228 million. Last year there were two — "The Dictator" with $119 million and "Ted," which brought in $330 million for Universal.
Despite the overall downward trend, there have been some success stories for U.S. films.
Also read: 'Lone Ranger' Takeaway: Disney, Forget Original Franchises
With "Star Trek Into Darkness," Paramount turned around that franchise's traditional struggle with foreign audiences, and it has taken in $218 million abroad. It's one of six sequels on the top 20 list this year, compared with three last year.
This year's No. 2 movie, Universal's "Fast & Furious 6," blew past earlier entries in the franchise to bring in $450 million.
The "we'll do better overseas" mantra offered up by distribution executives disappointed with their domestic results was borne out in the mid-year results.
Every American film on the top 20 list made more abroad than at home, and several that tanked in the U.S. have done OK overseas, including "Jack the Giant Slayer: ($132 million) and "After Earth" ($131 million).