(Updated: 10:44 a.m. PST)
Studio walls are tumbling down.
Paramount's decision to merge its home entertainment, licensing and digital operations — coming on the heels of Disney's consolidation of its DVD and tsotchke arms — reflects the new Hollywood math.
With DVD sales on the decline and video streaming on the rise, there is less need for distinct studio fiefdoms to handle the same entertainment properties across ancillary markets.
In today's increasingly digital world, segregated divisions have become redundant — and increase the odds that divisions will operate at cross purposes with each other.
Also read: Paramount Restructures Home Entertainment, Licensing Divisions
"Everybody is trying to get by on less head count because revenues are shrinking, so it makes sense to shrink layers and get everything flatter, so there's not as much replication of functions in dramatically separate divisions," Tom Adams, principal analyst and director of U.S. media for IHS Screen Digest, told TheWrap.
Paramount is shifting its DVD, digital and television licensing operations under a new umbrella division, christened Home Media Distribution, to be overseen by division president Dennis Maguire (left), a longtime home entertainment executive. The studio also centralized its global theatrical management oversight in Los Angeles.
"Like every other industry, we have to pay close attention to how the world is changing and how the internet is changing how consumers buy our product," a Paramount insider told TheWrap.
"DVD is not what we thought it would be, but video streaming and digital distribution are becoming much more popular, so the change that we knew would be here, is here now. It's not coming five years from now," the insider added.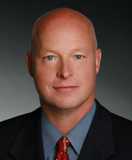 Earlier this month, Disney consolided its lucrative toys arm with home entertainment into a single division to be run by Robert Chapek (right) so that one team will interact with Wal-Mart and other big retailers on studio DVDs, plush toys and games.
The consolidation is unlikely to stop with those two studios. On Tuesday after Paramount's announcement, a rival studio executive told TheWrap that every company in town is working to more tightly align their various divisions.
The executive predicted there would be announcements of similar changes at other major studios over the coming months.
"My guess is that there's no president in town not having conversations about it today," the executive told TheWrap.
For one thing, the barriers that once existed between digital and physical distribution are eroding.
Take UltraViolet, the studio's new cloud-based initiative, which Hollywood hopes will prop up the fading DVD market by allowing consumers to more easily access their films on multiple platforms. Instead of simply buying a Blu-ray, consumers will be able to store the films they own in a digital rights locker and burn them to a disc or stream them on their PCs, game consoles, and smart phones.
Though digital revenues are still pennies on the dollar compared with the amount of money generated by DVD and Blu-ray sales, online video fees are finally starting to generate real cash.
Paramount, for instance, discovered that the internet could really pay when they convinced Netflix to shell out $1.5 billion over five years for the rights to its cable channel Epix. With Dish and Amazon entering the streaming space, the fees these companies pay for the rights to the studio's movies should continue to rise as the competition for subscribers and renters grows more pitched.
From a branding perspective, it makes some strategic sense for Disney to tie the future of its fading DVD business to one of the most robust elements of its balance sheet — toys and gaming. With such attractive brands as Pixar and Marvel in its stable, Chapek's retail-focused division is seen as a key part of the studio's continued success. In 2010 retail sales for the fiscal year of Disney Consumer Products reached $28.6 billion, easily keeping it at the top of the licensing marketplace.
Sony and Warner Bros. have also made moves to more fully integrate their digital and home entertainment operations in recent years.
Not that all this cross-platform appeal hasn't come with some pain.
The DVD market for new releases fell 44 percent last year as more movie watchers shifted to video-on-demand and online streaming services such as Netflix, according to a study by SNL Kagan.
Likewise, the domestic box office has remained relatively flat since 2009, but ticket sales have dropped precipitously.
But is all this restructuring a way to mask cutbacks?
Studios have often touted restructuring as a way to prepare for the future, when what they really were hoping to do was improve margins.
Several of the major studios are cutting back on their home entertainment divisions, in large part because of the decline of the DVD market; Blu-ray sales have been rising, but nowhere near enough to make up for declines in the older format. At this point, digital transactions bring in a tiny fraction of overall home entertainment revenue.
It's not clear if Paramount's move will also lead to layoffs, but there must be some redundancies throughout the various departments.
Beyond acknowledging the new digital reality, these moves might signal that studios are aping the lean, mean model embraced by their new media brethren; companies such as Facebook and Google rack up billions with a fraction of the workforce.
One thing's for certain: The walls are closing in on the old ways of doing business.
Fred Schruers contributed to this report