Arnold Schwarzenegger and Sylvester Stallone are two of the biggest action stars in Hollywood history, but on Thursday at Comic-Con the two seemed primed for a date rather than a fight.
The Hollywood icons shared the stage at Hall H with Terry Crews, Dolph Lundgren and Randy Couture to promote their upcoming film, "The Expendables 2."
While all of the castmembers shared fond stories of beating one another to a pulp, it was Stallone and Schwarzenegger, who will also star together in 2013's "The Tomb," who really got to reminiscing.
When Hero Complex writer and moderator Geoff Boucher asked them how they met, their tale involved flowers and a party – a Golden Globes party in 1977 to be exact.
Also read: Comic-Con: Stan Lee Unveils Fan-Centric YouTube Channel
Stallone had won "Best Picture" for "Rocky" and Schwarzenegger "Best Newcomer." Stallone recalled that when he heard them call Schwarzenegger's name, he thought "no one has a name like that" and assumed the bodybuilder's career was doomed.
At the party, Stallone decided to toss some flowers on the Austrian to elicit a reaction. The way Schwarzenegger remembers it, Stallone's mother came up to him and said he looked like a piano mover.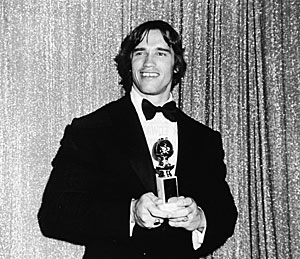 Arnold's response?
"Thanks."
Embellished or not, that launched a decades long friendship and competition over who had more muscles, who used more oils and who racked up larger body counts in their movies. For the record, Schwarzenegger claims he won with a body count of 289 to 288.
Also read: Comic-Con: 'Twilight Saga: Breaking Dawn Part II' Debuts
This shared history left just one question for the audience – what is Stallone's favorite Schwarzenegger movie, and vice versa.
While Stallone said "Terminator 2" set the standard for years and years to come, the governator was more diplomatic, complimenting Stallone on the three franchises he piloted — "Rocky," "Rambo" and "The Expendables."
"I don't know anybody who has come up with that many franchises, and each time the sequel is better and better," Schwarzenegger said.
Then came the final surprise. Schwarzenegger began to talk about Stallone's painting.
"He does't get enough credit, but Sly is an extraordinary artist," Schwarzenegger told the crowd. "You should see his paintings. He does it on the side and is getting hundreds of thousands of…"
Also read: Disney Premieres 'Oz the Great and Powerful' Trailer at Comic-Con
Stallone cut him off, with Schwarznegger joking it was because Stallone wasn't paying taxes on those sales. Stallone soon pivoted to Arnold's painting, only to realize the setting — Comic-Con.
"Here we are, we've killed thousands of guys, but we're really painters," Stallone quipped.
"We're sensitive," Schwarzenenger said.
Oh, get a room already.
(For more on Stallone's painting, take a gander at this GQ Q&A from 2010.)