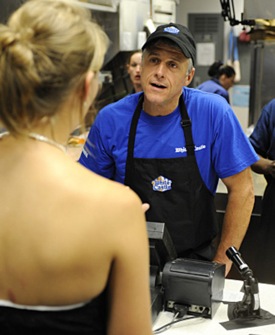 Will CBS be able to keep "Undercover Boss" undercover next season?
When a show is seen by 38 million people leading out of the Super Bowl and then averages almost 15 million viewers per episode, it's hard to stop tongues from wagging when a new employee shows up followed by a camera crew.
What's a network to do?
CBS entertainment president Nina Tassler told TheWrap the crew has some new tricks up its sleeve — but she won't spill the beans until taping is completed.
"I'm not going to give away any secrets," she told The Wrap.
At first she said the average employee in the field is too busy to be looking over their shoulder to see if the chief executive of the company has infiltrated their ranks. And then she said even if a camera is following a new employee, "If you hear hoof beats, you don't necessarily see the horse."
Then adding to the intrigue, she said, "The show has a very smart production team. I don't think the employees will realize."
When asked point blank if that meant hidden cameras, she paused and said, "I don't want to give any secrets away, but it will be smartly done."