"The Hunger Games" trounced its box office competition in its second week of release, pulling $61.1 million and soundly defeating newcomers "Wrath of the Titans" and "Mirror Mirror."
Lionsgate's movie, which opened to $152.5 million last week — the third-biggest opening ever — has now grossed $251 million domestically.
Also read: 'Bully' Pushes Its Way to $23K Per-Screen Opening at Indie Box Office
The PG-13 movie is a juggernaut that the weekend's two new movies can't approach. "Wrath of the Titans," from Legendary Pictures and Warner Bros., managed only $34.2 million and "Mirror Mirror," from Relativity Media, took a disappointing $19 million.
"The Hunger Games" dropped about 60 percent compared to its opening weekend — similar to "Twilight," "Harry Potter" and "Iron Man."
But this weekend, it did not have the benefit of IMAX or of the $19.7 million surge in midnight moviegoers of opening night.
Perhaps the biggest surprise at the weekend box office is the No. 7 movie in North America: "Salmon Fishing in the Yemen," from CBS Films. The movie took $1.3 million from only 483 locations.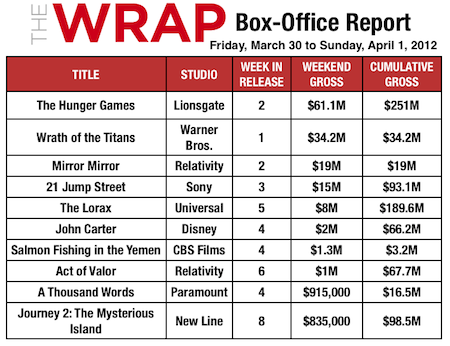 "Wrath" is a follow-up to the 2010 "Clash of the Titans." The earlier film had a significantly stronger opening weekend — $61.2 million versus "Wrath's" $34.2 million.
"Wrath" cost about $150 million to make.
But "Clash" opened on a holiday weekend, while "Wrath opened the week before a holiday," and Dan Fellman, Warners' head of distribution, told TheWrap he expects the movie will have a strong run.
"We decided to open up a week early, on a nonholiday, and take advantage of the fact that we had a good movie … and get some playability."
He noted that the movie received a "B+" from the audience polling firm Cinemascore, and that on the next few days, about 30 percent of American students will be out of school.
The PG-13 movie appealed mostly to males: 65 percent of the audience was made up of males and 45 percent was younger than 25.
Importantly, 65 percent of the audience saw the film in 3D. That is noteworthy because "Clash" was widely criticized for its 3D conversion.
"This time we made a better movie and the 3D was done properly," Fellman said.
The 3D conversion, like with "Clash," was done by Prime Focus.
"We'll finish the week into the $40 million area," he said. "My second Friday, I'll have 82 percent of the kids out of school … so my Friday-to-Friday should be very, very strong. The only movie opening next week is an R-rated movie, so again, positioning-wise, I'm in good shape."
He compared the movie's opening to the opening of "Sherlock Holmes: A Game of Shadows."
That movie, a sequel to the 2009 "Sherlock Holmes," opened to $39.6 million, while "Sherlock" opened to $62.3 million.
"Clash" opened on Easter weekend and the original "Sherlock" opened on Christmas day.
The sequels each opened one week before the holidays.
"This week, I went from a nonholiday going into a holiday," Fellman said. "So we're going to do this in reverse, and that's why I'm very pleased with the opening."
And while "Sherlock Holmes: A Game of Shadows" is still behind the original at the domestic box office, it has grossed $10 million more than the original worldwide — even if it cost more to produce.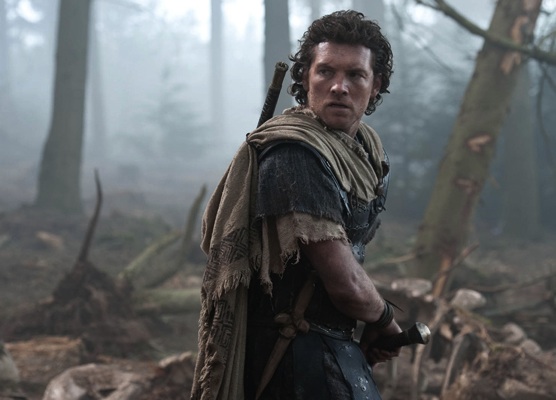 Internationally, "Wrath" took $78 million in 60 markets. It was No. 1 in nine of the top 12 markets, and in 46 total markets.
"Mirror Mirror," Relativity's PG take on the Snow White fairy tale, had a softer than expected opening weekend.
The studio's pre-release estimates had the movie pulling in between $22 million and $24 million. Instead, it grossed $19 million.
"We would have liked a higher number to start, but we believe in the film and we're going to support it in a significant way," Kyle Davies, Relativity's head of distribution, told TheWrap Sunday morning.
Like his counterpart at Warner Bros., Davies is counting on Easter weekend and the days leading up to it to deliver audiences.
"Kids are out this week, then you've got Easter Weekend," he said. "'Lorax' has done well, but they've been out for four weeks, and now we're the fresh title and there's not another PG family movie for a couple of weeks."
"Mirror Mirror" appealed strongest to families — 60 percent of the audience was made up of families. More girls than boys — 74 percent compared to 26 percent — saw "Mirror Mirror."
Most of the movie's audience, in fact, was made up of women — 76 percent of those 12 and older were female, 63 percent of the audience was made up of people 25 and older.
"Mirror Mirror" cost about $85 million to make, but after foreign pre-sales, a deal with Netflix and tax incentives, Relativity's exposure is about $30 million.
Next week, Universal opens the R-rated "American Reunion," the most recent in its "American Pie" franchise. And on April 4, Paramount rereleases "Titanic" in 3D.