As the credits crawl on "Simply Complicated" — Demi Lovato's feature documentary coming to YouTube — faded out at the Fonda Theater in Hollywood on Wednesday night, the movie screen lifted away.
Lovato emerged between a full gospel choir and live band already playing "Sorry Not Sorry," the lead single from her recently released sixth album.
"I've talked a lot about my past before, and I touch on that in the film," Lovato said, while making introductions with YouTube's Susanne Daniels and director Hannah Lux Davis. "What I haven't gotten to share is the person I am today."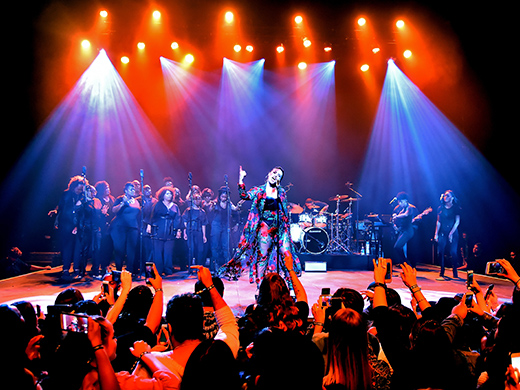 Also Read: Demi Lovato, Fallon Prove They're Not BFFs on 'Tonight Show' Game (Video)
Today, Lovato is training for a jiu jitsu black belt in a secret gym steps above the debauchery of the Sunset Strip, worries about "the chase" of connecting with guys (and girls, who knew?) on dating apps, and has no time for suitors who snort coke in the club while pouring vodka down girls' throats in front of her face.
She is literally "not sorry" about leaving that scene behind.
From the first line she speaks on camera — "The last time I did an interview this long I was on coke"– "Simply Complicated" is a feature length mea culpa.
Lovato makes a litany of confessions from struggling with binges (substances and food),punching a backup dancer, hungover "American Idol" performances after all-nighters and her bleary tear through the early 2010's as she wrestled with a double identity.
It's a "Behind the Music" story arc for someone who is now on the other side at only 25 years old.
Also Read: Sorry James Corden, You Can't Out-Diva Demi Lovato (Video)
Demi is a "global mental health advocate," added Daniels, YouTube's Global Head of Content.
I'd add "fan ally," as the first two rows of VIP couches were reserved for 20 of Lovato's diehards. Picked from social media testimonials, they got a private meet and greet backstage before the film.
The YouTube community also showed up strong for Lovato with A-listers like Lilly Singh, Hannah Hart, and sWooZie, joining social queens like Niki DeMartino (above left) and Alisha Marie (center).
Also Read: Demi Lovato Laughs Off Photo Hack: 'The World Has Seen Me Nude By Choice'
On the industry side, TV producer Matt Kunitz (whose Kevin Hart comedy fitness series "What the Fit" is coming to YouTube) and Tubefilter boss Drew Baldwin were also in the mix, along with Playboy exec Tamar Aprahamian.
Unlike Netflix, Hulu's top paid tier, or YouTube Red, "Simply Complicated" is an "ad supported" YouTube original. That means that ads will punctuate the film, just like a linear broadcast. These will likely come from Ulta, a beauty company involved with the production (including a few gratuitous cutaway shots on-screen). They sponsored the premiere and stuffed the gift bags with goodies at the show.
As Lovato closed the night singing "Tell Me You Love Me," Davis was dancing and clapping along in the front row of the balcony. From there, it was only a few steps up to the roof of the Fonda for an after party, with candy and wine flowing through the space. Three stories below, some dedicated Demi fans waited on Hollywood Boulevard as a billboard for the Lady Gaga's Netflix doc "Five Foot Two" lingered overhead a block away.
Check out the "Simply Complicated" trailer below: