After Neil Patrick Harris signed off by toasting with a glass of champagne behind CBS's blown 11:00 p.m. curfew, the thirsty and starving crowd of thousands migrated out the Nokia's house-left door to the Governor's Ball.
Host NPH with day-job castmates Cobie Smulders and Alyson Hannigan backstage near the above-the-line chairs.
Perhaps because of the alcohol-free bar and outrageously depleted snack bars at the Nokia (they ran out of cheese and fruit plates at 6:00 p.m., one hour into the three hour ceremony) Emmy guests were ready to chow down by 8:15.
Jane Lynch skipped the handshaking, sitting into one of the higher profile off-brand rectangle tables near the center of the enchanted forest-designed convention center.  Hunger cravings aside, perhaps she just had to dine-and-dash to Fox's pan-corporate network party (Fox, FX, 20th TV) a few blocks up on Figueroa, the closest non-Governor's Ball party.
Animator Paul Wee and Emmy host alum Jane Lynch were ready to polish their pearlies with gold after the long, sustenance-free ceremony. They posed for this photo at the Fox party
See photos: Emmy Week Scene: People, Parties, and the Trophy Salad
To the left of Lynch at the Gov Ball, Michael Douglas strode through the center forum, a glittering Emmy statuette in hand. He was entourage-free. A TV Academy publicist shadowing him sprung in to action to wave off an Associated Press EPK crew with a bright light who wanted the shot of him leaving a wake of gawkers.
Douglas and winner Steven Soderbergh at HBO.
Douglas' gossip weekly currency sky-rocketed a half-hour earlier when he name-checked separated wife Catherine Zeta-Jones in his acceptance speech, a rare crossover between the external public projection of a couple in crisis and the proud humility of winning a major award with the support of a dedicated spouse.
Others with a lot of gravity at the Audi-hosted Governor's Ball included Jimmy Kimmel, Kerry Washington, but not Stephen Colbert.
Colbert in the winners' circle at the Governor's Ball, where those who netted golden souvenirs got them instantly engraved.
Colbert, a double-winner on the night, had enough daylight from creepers to fork a pre-set salad on his table without even taking a seat (table 628, house left). He juggled two stautettes and dodged the shutterbugs that roamed. (I thought of asking him for a two-fisted trophy photo, but shot his co-intelligentsia of victorious "Colbert" co-executive producer Meredith Bennett instead.)
Winner Anna Gunn, Aaron Paul, and Bryan Cranston debate the "Breaking Bad" 18-49 rating.
In other behind-the-scenes talent, "Kimmel" writer Tony Barbieri, who had the misfortune of playing ESPN's savior and "Grantland" czar Bill Simmons in fantasy football this week, was stoked on their buzzy season. Their so-called "monkey reel" – how they slug the comedic nominee package for the writing staff – called for earplugs. Every writer got shouted-out by shouter-in-chief Oprah Winfrey in an undisputed coup for best video package (not an actual award category.)
As for the Winfrey booking, Kimmel's crew shot it over a month ago, long before Kimmel's "Twerk-fail" became the viral touchstone for the late-night show that will soon face competition from fellow opening-monologue comic Jimmy Fallon.
"There were penises and boobs flying around backstage," newly minted Emmy winner Derek Hough said of the on-stage, have-no-shame, drop-everything wardrobe changes he endured to go from "dance costume" to formal wear in 45-seconds to close the choreographer's 1990's  Oscar-ish dance number.
The Hough siblings at HBO. Hough's co-castmate Tom Bergeron hauled home the reality host Emmy last year, proving the veteran franchise still has awards legs. 
There was debate in the first 20 rows of the Nokia as to whether Hough won the Emmy because rank-and-file Emmy voters recognized his name as an on-camera personality on ABC's "Dancing with the Stars" as compared to the equally talented but off-camera choreographers he faced.  From my experience as one who sees Hough weekly on the party circuit, his in-person charisma might have tipped the scales.
Although he had a well-deserved shiny sheen after the athletic routine on stage, Hough was cool and calm while fielding a non-Wrap reporter's unwieldy blackberry and answering wildcard questions  at the HBO party in West Hollywood. Fellow nominee and choreographer heart throb Travis Wall opted for Neil Patrick Harris' soiree at the Thompson in Beverly Hills, hosted by Peroni Nastro Azzurro. Christina Hendricks carved time out of "Mad Men's" Heineken party to also turn up at the Harris hugh-hush huddle in Beverly Hills.
HBO native and TheWrap's "On the Grid" mover Michael Sucsy (who made his catapult from commercials to the studio system via HBO's 'Grey Gardens' a few seasons ago) held court with fiancé Demetri Sgourakis, the subjects of a recent trade profile on "Big Gay Weddings."
Inside HBO, the party radar scouted Mick Jagger. Jagger went all in on the emmy weekend party scene, crowning parties for three nights in a row. At HBO, he took over a table in the northwest corner of the tent.
Iain Canning, who won an Oscar as a producer of "The King's Speech" in the 2011 season was in another region of the tent. He refused to discount his Emmy nomination for eventual loser "Top Of the Lake." "It means a lot…it does," he told me, brushing off the vintage  Rob Schneider clip that played during the show that suggested film talents "slum" by submitting to the Emmys.
Seth MacFarlane's microphone flub from the Emmy's 2012  replayed in the Nokia during a commercial break.  ("This is what happens when you don't come to rehearsal," he said in what became an unwitting audition for the Oscars hosting gig last February.) It didn't concern the svelte mogul.
The flashback clips engineered by producer Ken Ehrlich to placate the in-house crowd kept the house crowd disturbingly hushed through all the commercial breaks. It was odd. On hearing that his flub became commercial blooper material, MacFarlance dealt his true cards: "I was in the car by (the time it aired)," he quipped, totally unphased.
Because "The Colbert Report" won two marquee Emmys this year – some awards that have traditionally gone to sibling "The Daily Show" –  Comedy Central picked the wrong year to restructure its Emmy party schedule. They used to host on Sunday night. Instead they downshifted to a dinner on  Saturday night.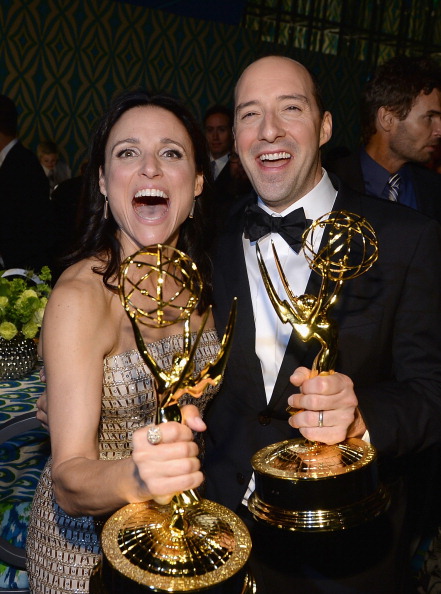 If you binge-watched "Game of Thrones" to get ready for the Emmys, you flopped. Double "Veep" winners had the shrewd Academy members in the crowd clapping the loudest. Julia Louis-Dreyfus and Tony Hale at HBO.
This year, the "Colbert" writers would have loved a place to let go. On the way to the Governor's ball, "Daily's" second stringer John Oliver, who anchored while Jon Stewart directed a movie this summer, went out of his way to find and shake down the "Colbert" writing team, who seemed genuinely honored to get the proverbial older brother's congrats on the crowded walk down Chick Hearn Way.
Whether it came from a renting out a club or late night "incidentals" from a hotel mini-bar, Comedy Central president Doug Herzog had his eye on the bottom line: "We're footing the bill either way," he told me at HBO's bash of the wandering "Colbert" celebrations.
A few steps from Herzog, NBCU broadcasting chairman Ted Harbert re-introduced his wife to Harry Hamlin, nominated but un-victorious for a guest actor spot on "Mad Men."
The exotic HBO scene at the Pacific Design Center plaza. If this was open as a regular club or lounge in LA, SBE and others would be in trouble.
Just before midnight, Sofia Vergara, a winner-by-proxy in "Modern Family's" Best Comedy's triumph returned to the HBO dance floor. Last year, Vergara captured the headlines with a dance off that landed on TMZ and other sites. For 2013, she made no requests to DJ Spyder, who skillfully mustered an actual dance floor in the off-shoot tent. Must be the influence of the unabashed milleniuals.
Netflix shot out of the cannon right at it's 10:00 p.m. start time at the London Hotel. They  stayed strong for the next two hours.
Kevin Spacey at the Nokia earlier on Sunday night.
While Netflix's maiden voyage packed talent, executives, and producers until the Cinderella hour when the rooftop party exhaled, the face of the "network" (Kevin Spacey) was still holding court there later. Over on the  choice "pool" side of the roof, Spacey circled up as Sunday night became Monday morning.
Off on the horizon, guests could peek at the lights of Jon Hamm and Amy Poehler's "Loser's" party at Soho house, where everyone wanted to be. At the Governor's Ball, HBO, and Netflix, a substantial part of the post-show conversation revolved around scheming and plotting a way in to the Hamm-Poehler fest party atop 9200 Sunset. As of publishing, none were successful.
But take heart. Even if Poehler and Tina Fey's crawling up the stairs bit spiked in the telecast, she was not above taking a selfie with Bob Newhart in the Audi Green Room backstage. There's always a pecking order.
A genuinely surprised Vince Gilligan at the Governor's Ball.
Earlier in the day as the carpet hit full throttle between 4:10 and 5:00 p.m., Recording Academy president Neil Portnow (below) strolled the Emmys carpet solo. While his venue, the Staples Center across Chick Hearn way, lay shrouded in darkness, he told me "I'm a student tonight," taking mental notes for his telecast that also airs on CBS.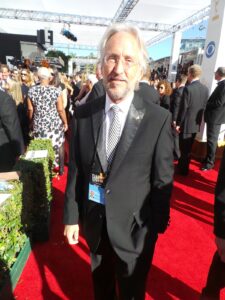 In 2014, The Grammys move up by a few weeks in to January, falling pre-Super Bowl. As I mentioned that every major award show now airs live coast-to-coast and that his org was behind the times, he had a credible defense. "It's a CBS thing," he said of the time-delayed telecast, insinuating that the buzz from musical performances migrates over social and traditional media to the west coast audience.
As the TV Academy staff wear emmy statuette lapel pins, from CEO Bruce Rosenblum on down, Portnow sported his gilded gramophone pin.
Carson Daly and Mark Burnett backstage at the Nokia. Daly's been getting some revenge on his "Dick Clark" career arc-nemesis Ryan Seacrest lately, scoring a position on the "Today Show" and his "The Voice" bucking all reality comers to become only the third  show to win the award.
Fourpeat: "Modern Family" boss Steve Levitan and Jessica Lange at the Fox party downtown.
Emma Roberts and Sarah Paulson ganged up at the Fox party.