In "The Invisible War," director Kirby Dick and producer Amy Ziering took on the incendiary topic of rape in the American military, interviewing dozens of victims and putting many of them on camera to tell their horrifying stories for the first time.
The movie, nominated for Best Documentary Feature, landed like a cluster bomb in the military community after its debut at Sundance in January 2012. It has since been screened for Secretary of Defense Leon Panetta, members of Congress and hundreds of military personnel, raising awareness of an issue that was both widespread and widely ignored.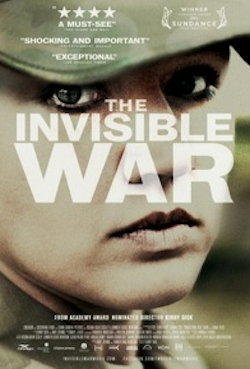 Also read: Military Rape Documentary 'Invisible War' Leads to Policy Changes Before Its Opening
TheWrap spoke to Dick and Ziering about what their film already has wrought and getting the victims to open up on film.
What changes have happened as a result of the film?
DICK: The Secretary of Defense held a press conference to announce significant policy changes. We've heard that seeing the film made a great impact on him. It's being seen extensively throughout the military now. Hundreds of people, colonel and above, have seen the film. They are using the film as part of sexual-assault training.
Why did it take this film to put this issue on the map?
DICK: The film in many ways has become a reference point for the military, the government and the public. Prior to the film, there was no film or book that put the story together. The victims' voices weren't heard. When they are heard, it spurs people to want to do something about it.
Amy, you did most of the interviews with the survivors of sexual assault, also speaking about how they felt betrayed by the military afterward. How did you get them to open up to you?
ZIERING: I did extensive pre-interviews of two to three hours of over 100 people. I understood the sensitivities. I understood what people were going through. Given that knowledge, the first thing I said was, "This is about you. Anything that makes you uncomfortable, we'll just stop. We're here, but don't feel obliged. No one knows when they agree to something like this what they'll go through. I don't want to contribute to your grief any further." When there were sad and difficult times during filming, we would stop. All of that allows for everyone to feel safe and comfortable.
How are these women now?
ZIERING: The film was incredibly helpful, but it only does so much. It's been remarkably cathartic for all of them and survivors everywhere. At a screening in Cleveland, a woman came up to me in the parking lot and said, "I drove here for three hours to meet you, I am a survivor, and this movie changed my life, because I always felt ashamed. I don't need to be ashamed, I don't blame myself anymore."
You are holding a recovery program for these survivors this month. Why isn't the government picking up the baton?
DICK: The V.A. is overwhelmed. You're dealing with an institution that is moving too slowly on this issue. They're still behind the curve in terms of preventing this and treating victims of sexual assault. The one thing being offered survivors is medication. I'm sure it's still a very significant problem. There's no question that the military has started to institute changes, take it more seriously. But they have a long way to go.