Irving Saraf, an Oscar- and Emmy-winning documentary film director, editor, cinematographer and producer, died Saturday at his home in San Francisco.
He was 80 years old and had been battling amyotrophic lateral sclerosis (ALS) for three years.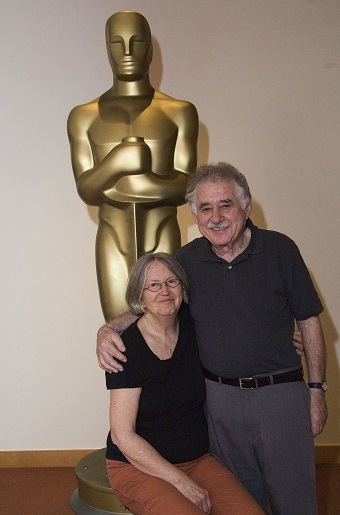 Saraf helped start the Special Projects department at San Francisco public television station KQED and was tapped by Saul Zaentz to help form Fantasy Films. With his wife, Allie Light (photo), he made the Academy Award winning documentary, "In The Shadow of the Stars," and the Emmy Award-winning, "Dialogues With Mad Women."
Also read: Notable Celebrity Deaths of 2012
Born Ignatz Szcharfertz in Lodz, Poland, in 1932, he and his family escaped the Nazis in 1939 and, after passing through Italy, Malta and Egypt, they settled in Palestine. He was one of the first citizens of the new nation of Israel and became an active member in the youth movement, Hashomer. Later he served in the Israeli army as a lieutenant. While still living in Israel, he changed his last name to Saraf.
In 1952, at age 20, he emigrated to the U.S. to attend San Francisco State University and took Irving as his "American sounding" new first name. After graduating from UCLA with a cinema degree, he married Hedi Saraf (Lowell) and they settled in San Francisco and had three children. The marriage ended in divorce in 1970.
After college, Saraf landed a job at the brand new public television station KQED. Along with Dick Moore, Phil Greene and later Bob Zagone, he helped form the well-known Special Projects department and embraced the emerging verite style of documentary filmmaking.
He made a number of films documenting the times, including an examination of the civil rights movement and a series on American poets. In 1965, he returned to his native Poland to film a portrait of people living under a communist government at the height of the Cold War. In 1968, he traveled to Cuba to co-produce and co-direct a film about Fidel Castro. Other films from Saraf included "Take This Hammer," about James Baldwin; "From Protest to Resistance," about the political activists Mario Savio, Stokley Carmichael and David Harris; and "Losing Just The Same," about an African-American family in Oakland.
In 1971, Zaentz asked to him to help start Fantasy Films, an offshoot of his successful music company Fantasy Records. Saraf headed the company when it produced "One Flew Over The Cuckoo's Nest," "Amadeus" and the original animated "Lord of the Rings," directed by Ralph Bakshi. He was instrumental in the launch of the Saul Zaentz Film Center post-production facility in Berkeley.
In 1981, he left Fantasy and, along with his second wife, Allie Light, and began making films under the Light/Saraf banner. It was their film "In The Shadow of the Stars," about members of the San Francisco Opera Chorus, that won them the Academy Award for best feature documentary in 1992. Writing in the New York Times, Vincent Canby referred to "In The Shadow of the Stars" as "magical with enormous wit, intelligence and compassion."
In 1994, "Dialogues with Mad Women," about mental illness among women, won them an Emmy. They made 17 movies together and were working on a film about each other's lives at the time of his death.
For 18 years he was an adjunct professor of film at San Francisco State University
Saraf is survived by Light, his wife of 38 years; three children from his first marriage: Michal Saraf of Princeton, N.J., Ilana Saraf of Durham, N.C., and Peter Saraf of New York City; three adopted children from his marriage to Allie: Alexis Seymour of Los Angeles, Charles Hilder III of Pacifica, Calif., and Julia Hilder of Austin, Texas; eight grandchildren; and his sister Hava Kenneth of Tel Aviv and a large extended family in Israel, France and the United States. His granddaughter, Rebecca Annitto, died in 2005.
The family has asked that donations be made in his name to Project ALS. A memorial will be planned in the near future.