As awards season heads into its closing couple of weeks, it's time to get creative.
After all, There are only so many guild Q&As, awards show appearances and Oscar parties a filmmaker can attend these days.
So if an appearance or event can raise money for charity or raise awareness of an issue while keeping an Oscar hopeful in the public eye during the homestretch, all the better.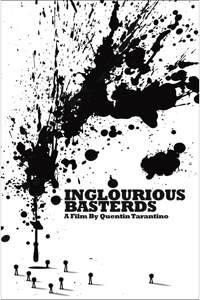 Witness Thursday night's benefit art program at the upper playground art gallery in downtown los angeles, where an event called "the Lost Art of Inglourious Basterds" raised money for Haiti by selling limited edition, $300 "Basterds" posters created by 13 different artists.
Each print will be signed by director Quentin Tarantino; artists involved include David Choe, Alex Pardee, Rene Almanza, N8 Van Dyke, Grotesk and Dora Drimalas (left).
(The prints can be viewed here; unsold ones will be available at upper playground for four weeks.)
Meanwhile, on Monday, February 22, "Avatar" director James Cameron will appear in a special event on the 20th Century Fox lot, where he'll screen scenes from his blockbuster film and then discuss the movie's environmental message, and the attacks it has received from conservative commentators. The director will be speaking to Elvis Mitchell, the host of the KCRW radio program "The Treatment."
The event, which will be presented by KCRW, is a benefit for the Natural Resources Defense Council, an environmental action group whose Leadership Council includes Cameron's Wife, Suzy Amis Cameron.
It reportedly came together over the course of the last week, a late addition to the filmmaker's already-packed promotional schedule.
The screening and discussion will take place at 6:30 p.m. at the Zanuck Theater on the Fox lot, 10201 W. Pico Blvd. in Los Angeles.
There's more information about the event on both the KCRW and NRDC websites. Additionally, information and reservations are available by calling (310) 815-9152 or emailing nrdc@5BEvents.com.