James Dolan is seeking suitors for a potential sale of MSG Networks, according to the New York Post.
The Manhattan newspaper said that any talks are "rather young." The MSG Company wouldn't comment on the report when reached by TheWrap: "We don't comment on rumors or speculation," a spokesperson told us.
The Regional Sports Network (RSN) commands a hefty $5 per subscriber. By comparison, national network ESPN is almost up to $8 per cable customer. Cord-cutting is hurting those businesses, however. MSG Networks reaches about 7 million houses in the New York City metropolitan area.
Also Read: Louis CK Releases New $5 Special, Defends MSG Show Cancellation in Email to Fans
"Dolan's gone to his friends" to gauge interest, the Post wrote, referring in part to Guggenheim Partners executive chairman Alan Schwartz, who is on the board of Madison Square Garden, a company that shares ownership with MSGN.
The Post's sources pointed out that Verizon could be one potential suitor. Fox Sports Networks and AT&T may also be interested, based solely on strategy.
MSG Networks has New York Knicks, Rangers, Islanders and New Jersey Devils games.
MSGN's stock price spiked this morning on news of the RSN's potential sale. Here's a snapshot of the trading day thus far: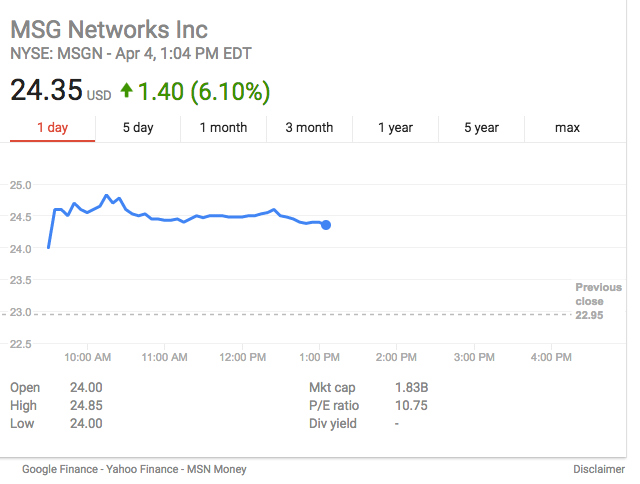 The Garden — a family-owned company that owns the world famous midtown arena — spun off its media assets in October 2015.