James Farentino, whose acting career was briefly derailed by allegations he stalked Frank Sinatra's youngest daughter, has died at 73, the Los Angeles Times reported.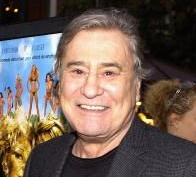 Farentino, one of the last contract performers with Universal Studios in the 1960s, had recurring appearances on shows including "The Bold Ones: The Lawyers," "Dynasty," "Blue Thunder" and "Police Story."
Film roles included "The Pad and How to Use It" (1966), for which he won a Golden Globe for most promising newcomer, "Me, Natalie" (1969) and "The Final Countdown" (1980).
He was married four times, and had a volatile relationship with Tina Sinatra. In 1994 he pleaded no contest to stalking her after he was charged with 24 misdemeanor counts of stalking, making harassing phone calls, and violating a restraining order, the Times reported. He was placed on 36 months' probation and ordered to undergo psychiatric and alcohol counseling, the paper said.
He appeared in shows including "Melrose Place" and "ER" in the late '90s, but his career had taken a hit.
"The roles started to get smaller and smaller with less value, and it was like, 'What am I doing here?' " he told The Times in 2003. "There are people in this business that for years said, 'He's an alcoholic. He's a drunk. He stalked Tina.' Clamps were put on me in many ways."
He mounted a comeback in the 2003 Geffen Playhouse production of "Boy Gets Girl," which focused on a stalking.
Farentino is survived by his wife, Stella, whom he married in 1994, and by his two sons.