When fans get wistful about artists who die too young, it's too easy to obsess over the tragedy of it all rather than to discuss why that death was such a loss in the first place — that unfulfilled promise of a life that ended too quickly, and that person's great, never-created work of which the world was deprived.
It's the focus on the art and the artist, and not on her demise, that makes Amy Berg's documentary "Janis" so electrifying. (The "Little Girl Blue" subtitle, included on screen and in the press notes, but not in the festival catalog, promises a more maudlin piece of work.) Berg ("Deliver Us from Evil," the upcoming "Prophet's Prey") doesn't sidestep the tragedy of Joplin's death, but neither does she let it overwhelm this celebration of a singular American talent.
Also Read: Toronto Film Festival Adds Music and Mayhem With Documentaries, Midnight Movies
It's difficult not to link this movie with the recent "Amy;" both docs are about raw and powerful white singers who modeled both their vocal style and their personal lives on troubled, talented black jazz and blues legends. But where "Amy" treats its subject like a bomb just waiting to go off, "Janis" feels more like a testimonial. The lack of tragedy porn is refreshing, and the compilation of vintage footage and new interviews gathered together by Berg paints what feels like a complete picture.
We see a young woman who discovered she could sing along to Odetta records, one who was a bullied outcast in Port Arthur, Texas, because of her support for integration. (We later see her return to her 10th high-school reunion at the height of her fame, feathers in her hair and everything.) Going to Austin for college meant meeting other musically-minded people, but it also meant being voted "Ugliest Man" by University of Texas frat boys.
Also Read: Hollywood Sex Abuse Documentary 'An Open Secret' Highlights DOC NYC Lineup
Like many other sensitive souls before and after her, Joplin had to get the hell out of Texas, and in San Francisco she found like-minded people (along with lovers, both male and female). After becoming addicted to Methedrine, she went home to Texas to clean up, only to cross the Golden Gate once again for a chance to sing with rising band Big Brother and the Holding Company.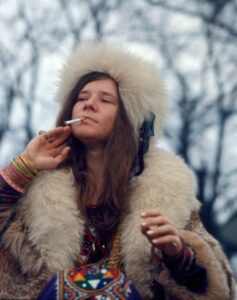 Through Janis' eyes, we get a very personal look at that legendary San Francisco music scene, from her relationships with Pig Pen and Country Joe McDonald to the night Moby Grape let Big Brother take over a set at the Avalon Ballroom because the Joplins were visiting from Texas. A friend recalls taking her to the Fillmore, when both of them were tripping on LSD, to see Otis Redding perform, and how she soon incorporated the "Gotta, gotta, gotta" from "Try a Little Tenderness" into her own singing.
It's a portrait of a woman struggling in a male-dominated industry, going home alone when all her male bandmates went off with groupies. We see her break with Big Brother, the ill-fated Kozmic Blues Band moment and, tragically, the completion of the acclaimed "Pearl" album, which wound up being released posthumously. There's Woodstock and there's Monterey Pop, and there are lovers and friends — and yes, there are drugs and booze — and by the end of the film we mourn not just the loss of a one-of-a-kind singer but a funny, oddball woman who left behind many people who thought well of her.
Also Read: Jean-Marc Vallée in Talks to Direct Amy Adams in Janis Joplin Biopic
Berg got access to lots of terrific performance footage, both from concert films like "Festival Express" and also from a never-completed Pennebaker film about Big Brother in the recording studio. (Falling chronologically between "Don't Look Back" and "Original Cast Album: Company," the footage confirms Pennebaker's skill as a consummate fly-on-the-session-wall director.) The conversations with Joplin's siblings, friends and collaborators (including Bob Weir, Dick Cavett and Kris Kristofferson) mesh with Chan Marshall (a.k.a. Cat Power) narrating Joplin's "Love, Janis" letters to her parents to create a picture of the offstage woman.
If all you know about Janis Joplin is that she died young of an overdose, "Janis" (an "American Masters" production) provides a fascinating primer on what she accomplished during her life. And really, that's the part that bears remembering.