At the same time that the Rolling Stones had the Lakers Pau Gasol and 18,000 others enjoying Staples Center in May for a reason other than the NBA playoffs on Friday night, Sir Elton John was making his own statement in Century City: He can hold a room of really rich philanthropists and rock stars rapt by himself — just add a piano.
"Good evening, ladies and gentlemen, I'm Rod Stewart," Sir Elton quipped, acknowledging his "great mate" sitting at the head table in head-to-toe white.
Filling the seat at his Yamaha that had haunted the stage on the grand ballroom of the Century Plaza for a few hours, Sir Elton shared the back story on how he arrived at the 20th Annual Race to Erase MS Gala. "The only reason I'm doing this is because Sharon Osbourne has so much info on me," he said. "I couldn't say no."
Host Nancy Davis, David Furnish, Neil Patrick Harris, Sir Elton John, David Burtka and honoree Sharon Osbourne in "the pit."
Sharon and son Jack, who was diagnosed with multiple sclerosis last June at age 26, anchored the annual pinnacle of Nancy Davis' campaign for MS research. As the honorees and unofficial co-hosts, Osbourne fingerprints were all over the night.
"This is like the Bar Mitzvah I never had," Jack said after an introduction by his sister, Kelly (above, left). He called his glass award a "Pimms Cup," referencing the traditional British summer cocktail.
"I've always wanted a medal on a ribbon," Sharon added. "Who would have thought it would come from M.S.? I thought it would come from the queen."
Only one of the public Osbournes was missing: "Dad's on tour with Black Sabbath," Kelly said, a unique revelation.
Far from the Sabbath, but in the same ballroom that hosts Yom Kippur services, Sir Elton gave a non-charity ball effort, something he knows a thing or two about from over 20 years of his own Aids Foundation galas both here on Oscar night and in England during the summer. He had everyone from Guns N' Roses rocker Matt Sorum to Cybill Shepherd's full attention at stage right.
His eight-song greatest hits set opened with "Tiny Dancer," and continued with "Your Song," "I Guess that's Why They Call It the Blues," "Rocketman," "Philadelphia Freedom," "Don't Let the Sun Go Down on Me," "I'm Still Standing," and concluded with a "Lion King" medley, "Circle of Life" and "Can You Feel the Love Tonight".
The crowd came from contrasting stratospheres of the industry: women with reality shows (Latoya Jackson, Lisa Rinna, a handful of actual "Real Housewives of Beverly Hills"), British rock elder statesmen (Stewart, above with wife Penny), rock solid working actors (Neil Patrick Harris, Catherine Bell), legal celebrities (Gloria Allred, Robert Shapiro), a pile of Davis scions, (including a half-his-former-size Jason Davis), a gift bag the size of the Jolie-Pitt family's beach bag, and one Bruno Tonioli cutting lines and squeezing through crowds.
Sir Elton ended the 47-minute set by jumping right off the stage into the pit of tables to hug his hosts, and then greeting nearly every person that stood between him and the exit at stage right.
Race to Erase MS fixture Tommy Hilfiger, a regular since it was an actual "race" in Aspen in the early days, had already sneakily made use of Elton's door minutes earlier to beat the horrendous Century Plaza valet. Smart man.
Star Trek: Into England
Paramount missed the opportunity for a one-of-a-kind "Home Theater Charity Auction" after the London premiere of "Star Trek Into Darkness" on Thursday night. Above, writer/producer Damon Lindelof arrives in Leicester Square.
The Above the Line talent front the Enterprise.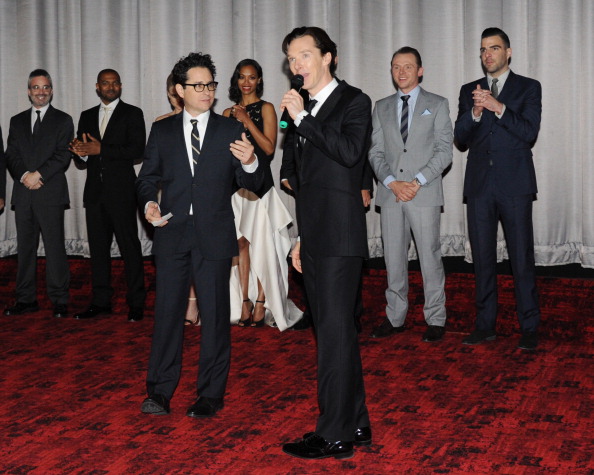 J.J. Abrams, reading off notes, brings up Benedict Cumberbatch for the cast curtain call inside the Empire theaters. Cumberbatch plays "Khan." The film opens in the U.K. this week, one week before coming to the U.S.
If Jay Leno and Chelsea Handler Had a Baby…
"When I first met Ross, I saw him in something I hoped I'd never see in myself," Jay Leno quipped at the Sunset Tower book launch for his former intern Ross Matthews on Wednesday night.
After taping a show with Kathy Griffin, the exhausted-looking, sneakers-and-jeans wearing Leno had driven a Model T down Sunset, banged his head on a chandelier, and been tapped to part the sea of valentine-hued balloons to open the Target-hosted party for Matthews' first book "Man Up." But "man up" Leno did.
He recounted how Gwyneth Paltrow would ask for Ross when booked on "The Tonight Show" and put up with a Chelsea Handler peanut gallery during his speech. (Paltrow penned the forward to the book, revealing a personal nickname "Rossy Pants.")
As Leno finished, Handler yelled "That was the best monologue you've given in 14 years." Handler not only owned Leno on that crack, but also owns a stake in the book. She published the book after her guest-host host brought her his treatment; Handler has a few best sellers on her resume herself.
Another author, Jackie Collins, was less helpful: "All of f—ing Sunset is shut down because of you," Collins told Matthews.
Target's retail tie-in includes a bonus chapter exclusive to copies sold there.
Bon Jovi Banks on Wall Street
"Iron Chef" Mario Batali and Jon Bon Jovi at Cipriani Wall Street for the Food Bank for New York City. On the same day he scored a Tony nomination for "Golden Boy," Tony Shalhoub hosted the night that netted almost $2 million.
On the Scene with Deans and Green
Motion Pictures of America Assn. Chairman Chris Dodd and UCLA School of Theatre, Film, and Television Dean Teri Schwartz at the Beverly Hills Hotel for the Producers, Writers and Directors American Spirit Awards on Tuesday night.
Also on Tuesday, Sir Philip Green, BAFTA LA Chairman Gary Dartnall, and The Grove kingpin Rick Caruso united at BAFTA LA's "New Wave" event.
While focused on matching new British arrivals to established industry mentors, not-entirely new to L.A. Brits Ashley Madekwe, and Louise Roe, as well as "Yank" Matt Lanter, joined in the party at the new-ish Topshop Topman at the Grove.