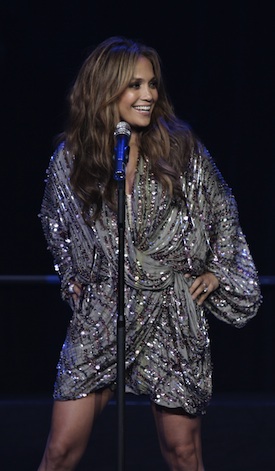 Steven Tyler is but one of many names being considered to fill the "American Idol" judges panel vacancy — although talks with Jennifer Lopez have gone on "for months," TheWrap has learned.
As far as Tyler knows, his name is in the mix, but other options are being considered by "Idol" brass, a person with knowledge of the talks between Tyler and "Idol" told TheWrap. If Fox is prepping an offer for Tyler, as has been widely rumored, they haven't made him aware of it, the person said.
Widespread speculation has surrounded the judges table since Simon Cowell announced his exit in January. Those rumors intensified when Ellen DeGeneres announced her own departure from "Idol" July 29. DeGeneres, who was never comfortable with the role, reportedly approached producers a little over two months ago about ditching the second half of her two-year "Idol" contract.
Tyler jumped to the top of the rumors list when a reporter broached the topic at a Las Vegas afterparty for one of his concerts July 31. "I'm probably going to be a judge on 'American Idol,' I'm doing it. What do you think?" Tyler said.
But Tyler's publicist, Bianca Bianconi, tells TheWrap that his remarks were intended only as a joke. "A lot of the comments that Steven Tyler has made with regard to 'American Idol' in the past week have been taken out of context. He's out on the road doing press for the tour and having a little fun with it," Bianconi said.
Aerosmith is currently in the midst of a summer tour.
Jennifer Lopez is another name that has surfaced in reports about the vacant judging slots on "Idol." An individual close to the show told TheWrap that talks between Lopez and "American Idol" have been going on "for months" and began before DeGeneres left the show.
The information that Lopez wasn't lined up as a replacement for DeGeneres jibes with rumors that another current "Idol" judge, Kara DioGuardi, is on her way out. Lopez would have been an awkward replacement for Cowell on a panel that also included DeGeneres and DioGuardi since it would make Randy Jackson the only man at an all-female judges table.
If Lopez is serving as a replacement for DioGuardi and Tyler is in a sweepstakes to fill Cowell's slot does that mean there will be a third space to fill now that DeGeneres is gone? Probably not.
Nigel Lythgoe, one of "Idol's" original producers, recently announced that he will be returning to the show for its upcoming tenth season. Lythgoe has publicly expressed that he prefers the three-judge format "Idol" used for its first eight years rather than the four judge panel used in season nine.
There's no question that Lythgoe will throw his weight around a little upon his planned return to an executive producer role.
Fox has stated that its policy is not to comment on any speculation surrounding the judges on "Idol."