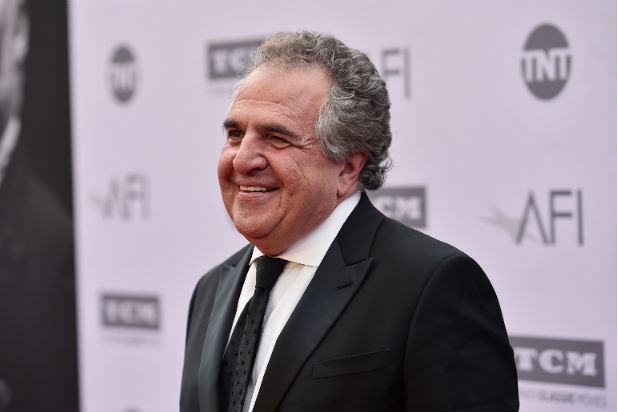 Jim Gianopulos has been named Paramount Pictures' chairman and CEO, President and CEO of Viacom Bob Bakish announced to employees in an internal memo on Monday.
Last week, TheWrap reported that Viacom was close to formally naming him the successor of Brad Grey, who stepped down on the heels of a public mandate from Bakish for improved financial performance at the "Transformers" studio. Gianopulos will assume his role on April 3.
Gianopulos will oversee the studio's film and television operations worldwide, including production, marketing and distribution. He will also develop new content, strengthen Paramount's slate with co-branded releases and expand the studio's global footprint.
Also Read: Jim Gianopulos Is Finalizing Deal to Run Paramount Pictures
Gianopulos has been a moving target since he handed the reins of Fox to Stacey Snider last year — and was in early discussions with Dalian Wanda's Legendary Entertainment to run that outfit and take an advisory role in the whole of the Chinese conglomerates interests in Hollywood.
"Jim is a remarkably talented executive with all the tools – strategic vision, strong business expertise, deep industry and creative relationships – to bring films to life that resonate throughout culture and deliver commercial results," said Bakish in a statement. "I'm thrilled we will have the benefit of his experience, savvy and global expertise as we lay out a clear path forward and begin the next chapter in Paramount's storied history."
Gianopulos added, "Paramount is one of Hollywood's truly iconic studios, and the role it has played in shaping the entertainment industry cannot be overstated. Looking ahead, I see a strong opportunity to position the studio for success by creating valuable franchise opportunities, developing fresh creative ventures, and mining Viacom's deep brand portfolio to bring exciting new narratives to life. I am eager to get to work with Bob and the rest of the Viacom and Paramount teams to ensure Paramount continues to deliver rich, powerful films and television programming for all audiences."
Also Read: Michael De Luca Turns Down Paramount Job
Prior to this announcement, Paramount was being run by a committee of department heads under the supervision of Bakish. The committee included Motion Picture President Marc Evans, Worldwide Distribution and Marketing President Megan Colligan, Paramount COO Andrew Gumpert and the studio's digital and TV head Amy Powell.
Gianopulos started his career at Paramount before his early days on the Fox lot in international distribution. He was named Co-Chair of the filmed entertainment group in 2000 alongside now-Sony Pictures head Tom Rothman.
He assumed the sole title of Chairman and CEO in 2012, and oversaw production and rollout for titles across 20th Century Fox, Fox Searchlight and Fox 2000.
Read the internal memo below.
Team,

I'm thrilled to tell you that we are about to announce some major news.  Starting

April 3

, Jim Gianopulos will be joining us as Paramount's new Chairman and CEO.

Jim is a hugely talented executive, with a strategic vision, strong business expertise and deep industry and creative relationships that are second to none.  In his new role, he'll have direct oversight over Paramount's film and television operations worldwide, including production, marketing and distribution.  And, importantly, he'll be charged with setting a new strategic direction for Paramount, focusing on bringing fresh story-driven content – including properties from Viacom's flagship brands – to audiences, and expanding the studio's global footprint.

On that front, he'll be given a running start thanks to the hard work of Paramount's dedicated teams who are right now exploring new ways to strengthen the studio and position it for success.

As many of you will know, Jim is a 30-year veteran of the global entertainment industry.  For 16 years, he served as Chairman and CEO of Fox Filmed Entertainment, where he oversaw numerous box office smashes, ranging from "Avatar" and the "X-Men" series, to "The Descendants" and "The Grand Budapest Hotel," and most recently "Deadpool" and "Hidden Figures."  Before that, he held senior positions at Columbia Pictures and, yes, Paramount.  Amidst all of this, Jim has found the time to serve as Treasurer of the Academy of Motion Pictures Arts & Sciences, Chairman of the Motion Picture & Television Fund, and a Trustee of Carnegie Melon University and the American Film Institute.  He also serves on the USC School of Cinematic Arts Board of Councilors.

I've said before that Paramount is a key part of Viacom's history and our future.  Jim's appointment is an important step forward, and I can't wait to work with him and the incredible Paramount team to realize the studio's full potential.

Finally, I'd like to thank everyone at Paramount for their continued dedication throughout this transition. I'm sure many of you will have questions, so please do not hesitate to reach out to your managers.

Here's to Paramount's next chapter!

Best,

Bob