Jimmy Kimmel kicked off his show Tuesday night with a lengthy joke about how big a fan Donald Trump is of tweeting the term "witch hunt," which happened again Tuesday morning when he tweeted the one-two punch of "Attorney-client privilege is dead!" followed by "A TOTAL WITCH HUNT!!!" Trump was, of course, still mad about the FBI raiding the office and home of his personal attorney, Michael Cohen, on Monday.
And after taking on that subject a little bit on Monday night, Kimmel really lit up Trump on Tuesday.
"President Trump was up bright and early and on Twitter this morning to unleash some morning rage. Yesterday as you know, the FBI raided his lawyer's office. Today, we learned that what they were looking for: documents related to hush money paid to porn star Stormy Daniels and former Playboy Playmate Karen McDougal," Kimmel said. "You know when your mom goes under your mattress looking for dirty magazines? This was like the FBI version of that. And the president isn't pleased. You can actually tell how upset Trump is based on the way he tweets the words 'witch hunt.'"
Also Read: Colbert: After FBI Took Cohen's Phone, 'He's Going to Have to Threaten Porn Stars by Telegram' (Video)
Kimmel used three different Trump "witch hunt" tweets to demonstrate the danger levels.
Six weeks ago he tweeted, all caps and an exclamation point: "WITCH HUNT!" That's level one," Kimmel said. "Three weeks ago, he ratcheted it up, he tweeted again in all caps 'A TOTAL WITCH HUNT WITH MASSIVE CONFLICTS OF INTEREST!' And then this morning he went right to 'A TOTAL WITCH HUNT!!!' All caps and three exclamation points. Which means run."
He then explained a theory he has for why Trump likes to tweet those words seemingly at random and without context.
Also Read: Seth Meyers: Trump's New Strategy Is 'To Act so Guilty the Feds Will Think He Has to Be Innocent' (Video)
"He's not just tweeting randomly — he's tweeting back at the television. He assumes everyone is watching the same show he is. Because he can't imagine a world in which he's not the center of everything," Kimmel joked. "And, by the way, he is the center of everything! It turns out he was right."
Kimmel also noted the obvious observation that Trump blaming the Cohen raid on a witch hunt is counterintuitive.
"The best part of this witch hunt that he blames on Democrats — the search warrant to raid Trump's lawyer's office was approved by the U.S. Attorney for the Southern District of New York, and that person was appointed by," Kimmel said, with a long pause at this point before revealing, "Donald Trump. That's right. The witches are hunting themselves now. I think 'witch hunt' could be the new 'MAGA.'"
Also Read: Jimmy Kimmel Bought a Bunch of Trump Merch Only to Find Out Most of It Came From China (Video)
To make his point, someone from the "Jimmy Kimmel Live!" staff then handed Kimmel one of Trump's signature red hats with "Witch Hunt" in place of "Make America Great Again."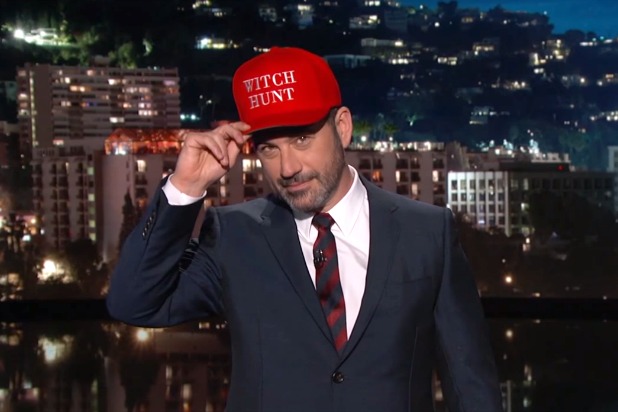 "Why is it so big? Oh, look, it's made in China, just like most Trump products," Kimmel said.
This monologue on Trump tweets would not be complete without mentioning that the "witch hunt" tweet was part of a pair that Trump posted just moments apart.
Also Read: Trevor Noah: Trump's Attorney-Client Privilege May Be Dead, but He Still Has White Privilege (Video)
"Trump also tweeted, 'Attorney-client privilege is dead!' Donald Trump's like your Facebook friend who likes to be the first to tell everyone a celebrity died," Kimmel joked before displaying a whole bunch of Trump tweets in which he declared things dead, including, but not limited to, steel and aluminum, Russian collusion, Obamacare, and a wide variety of news publications and TV shows.
"No one pronounces more things dead than Donald Trump. When he gets impeached he's going to run for the county coroner's office just so he can pronounce things dead."
You can watch this portion of Kimmel's monologue from Tuesday night in the video embedded at the top of this post, and you can watch this episode of "Jimmy Kimmel Live!" in its entirety on ABC.com.