ABC's Jimmy Kimmel turned the network's 2012-13 upfront presentation to advertisers into a roast Wednesday, taking aim at ABC's lineup, the competition and his boss' reported offer to work for the BBC.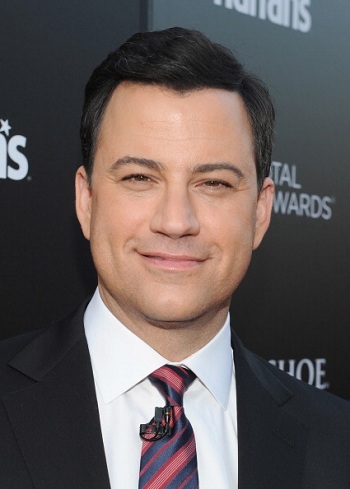 He asked his British boss, ABC Entertainment president Paul Lee, if he had really received an offer to run the BBC or if it was like a case of secretaries sending themselves flowers.
"ABC has something that the BBC will never have — dental," he added.
After several celebrities, including Tom Cruise, Cameron Diaz, Matt Damon and the Kardashians appeared in a video marking Kimmel's 10th year on ABC, the "Jimmy Kimmel Live" host joked, that he had no idea who some of them were. He said he was touched that the Kardashians took time "from their busy schedule of having sex with the Minnesota Timberwolves."
Also read: 'Hulk' Series Possible on ABC in 2012-13
Advertisers attend the upfront presentations to decide where to invest their ad dollars.
"How many times do I have to tell you," he said. "We don't know what we are doing."
He also recalled introducing the show "Good Christian Bitches" last year: "We changed it to 'GCB,' which instead sounds like a date-rape drug."
Kimmel also expressed surprise that "Dancing With the Stars" is still on the air. "'Dancing With the Stars' is still going strong-ish?" he asked. He added that he fell down while watching the show recently and hit his head. "For the first time this season, I actually saw some stars."
Also read: ABC Plans All-Star 'Dancing With the Stars'
He also made fun of the other networks. One joke mocked NBC's new "Animal Practice," which features a monkey, and "The Voice."
"Spinning chairs and a monkey — this truly is the golden age of television," he said, adding, "This is the first time that NBC has had a star that throws its own feces since Gary Busey on 'Celebrity Apprentice.'"
He also took several shots at new "X Factor" judge Britney Spears. "Britney Spears has wanted to be a judge ever since she spent the last 10 years appearing in front of them," he said.
When the crowd responded tepidly to some of his Spears jokes, he quipped, "I didn't realize this was a gay audience."
Kimmel also said the CW was giving the last upfront presentation because it didn't actually exist, and took several digs at CBS' older skewing audience. "They really do have their finger on the pulse, of viewers who have almost no pulse," he said.
"CBS is going to stay in their lane — they'll have their turn blinkers on the whole, time, but they'll stay in their lane."
He concluded by imploring advertisers to be generous.
"We know that you have 9 billion to spend this week, so don't get all cheap-o, Secret Service on us," Kimmel cracked.
The presentation also included appearances by the cast of ABC shows including "Revenge," "Once Upon a Time" and "Modern Family." It ended with a performance by Kelly Clarkson, John Legend and Robin Thicke of the upcoming summer singing competition "Duets."
Kimmel joked that the show will seem completely completely different from any other singing competition — to people who have never seen a singing competition before.