The swell of J.J. Abrams' gravity was on full display Wednesday night as the "Star Wars: Episode VII" director hosted Coach's annual night of shopping to benefit the Children's Defense Fund.
Above: January Jones, Conan O'Brien, Orlando Bloom, Abrams, Katy Perry and Josh Gad on the roof of Abrams' Bad Robot in Santa Monica.
The Bad Robot offices themselves are something of a breathing Smithsonian of nerd culture, albeit with a silicon valley floorplan. With a lightsaber photo studio upstairs but the restrooms downstairs and inside, a deployment of security served to visually remind you that this is the brain factory that holds the secrets to the next generation of "Star Wars" and "Star Trek" franchises.
Jones, co-host and Abrams' producing partner Bryan Burk, "Star Trek's" Chris Pine, and Emmanuelle Chriqui.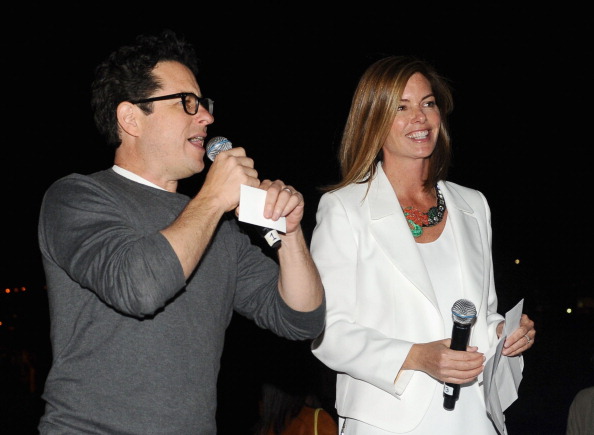 "C'mon guys, one meeting, one meeting," Abrams said to shush the crowd after dark, with wife, co-host, and CDF activist Katie McGrath (right).
"It's important that you come here for these silly parties," McGrath said. "Less than five miles away from here are children who are hungry, being neglected, and abused. Coach cares about kids and they say it with their pocket books."
Coach wrote a check for $100,000, donated 100% of all the sales from the night, and will keep donating $10 for every tweet with the hashtag #CoachLovesCDF through Thursday night.
While Bridget Peters and Joe Manganiello are cornered in this photo, Manganiello was heads up, front row and center next to Conan during the program
Left: Milla Jovovich and Chloe Sevigny
Right: Ariel Winter, who came with her sister, showed the love.
It wasn't all talent faces at the sunset soiree.
A few high school students who are the Fund's most prominent success stories came, some snapping photos with Katy Perry.
One, a female highschool football captain, is the subject of an Abrams short film.
From the Bad Robot clubhouse, Maggie Grace, Emilie de Ravin, Zuleikha Robinson, and Jon Favreau (in the club via NBC's "Revolution") also made the west side outing.
Other industry faces amongst the Ashlee Margolis-curated crowd included managers Robert Semon and John Carrabino, publicists Ruth Bernstein and Andy Gelb, and producer Danny Rose (Scooter Braun and E!'s upcoming "The Wanted" docu-series).
Meanwhile across town in Hollywood, Abrams' "Mission: Impossible" lead Tom Cruise was bringing his worldwide publicity tour for "Oblivion" home to the Dolby Theatre.
From left: Universal Marketing President Josh Goldsteine, Producers Dylan Clark and Peter Chernin, Universal Co-Chairman Donna Langley, Chairman Adam Fogelson, Tom Cruise and Universal Studios President Ron Meyer.
The film opens almost everywhere in the world before it arrives in the U.S. next Friday, April 19. The international tour included Dublin and the Guinness Brewery, where the one-time king-of-the-bar in "Cockatil" took a lesson in how to pour a pint, and surprisingly, drank some of the cloudy beer.