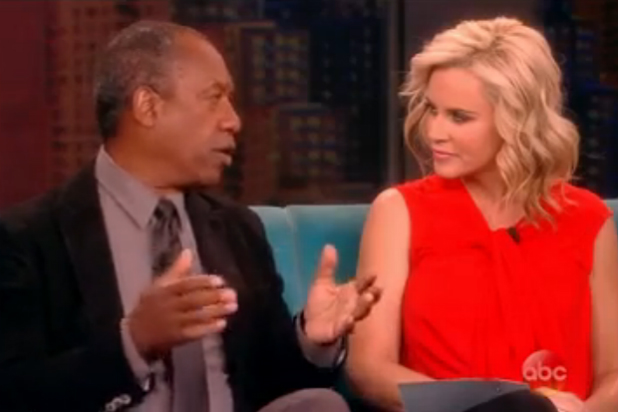 If you want to know who Joe Morton used as the inspiration to play Olivia Pope's (Kerry Washington) tough, villainous father Rowan on ABC's hit "Scandal," then look no further than the actor's own dad.
No, the senior Morton wasn't evil, but as the veteran actor told the hosts on "The View" on Friday, his father, an army officer charged with racially integrating the units to which he was assigned, was a tough disciplinarian on the same level as Rowan. "The very hard, both-feet-on-the-ground personality Rowan has comes from my father."
Also read: ABC's 'Scandal' Casts Portia de Rossi in 'Top Secret' Recurring Role
For the veteran character actor, the attention on his "Scandal" role is nothing like he's ever seen, he told moderator Whoopi Goldberg when she asked about prayer circles that were formed after his character was stabbed by his estranged wife near the end of last season.
See video: 'The View' Dishes on 'Fifty Shades' Trailer — Jenny McCarthy Says 'Missionary Style Gets Really Boring'
The part came at a good time for Morton, as he was looking to play "a brilliant bad guy" after a long line of good-guy roles. With Rowan, he got that and more — including a faithful following.
Watch the video below.