John Travolta denies that he was trying to cruise a male employee while aboard a Royal Caribbean cruise ship in 2009 in his response to a lawsuit filed by cruise-ship attendant Fabian Zanzi.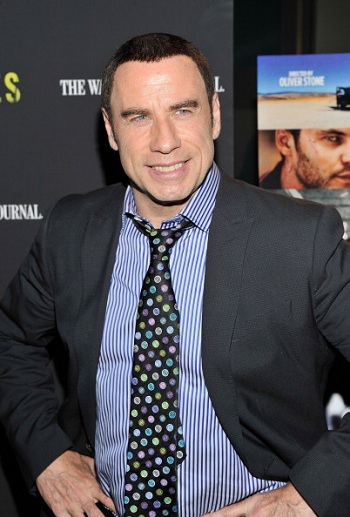 In his answer to Zanzi's suit, which was filed in June, the "Pulp Fiction" actor denies most of the claims against him, admitting only that he was aboard the MS Enchantment of the Seas on June 29 of that year. In several other instances, the actor's legal team claims insufficient knowledge to answer the allegations.
Also read: John Travolta Sued Again: Cruise Attendant Claims Massage Mischief
Zanzi, who went public with his claims in May, filed suit the following month, claiming assault and battery, intentional infliction of emotional distress and negligent infliction of emotional distress.
According to Zanzi's complaint, filed in U.S. District Court in California, he was assigned as the actor's personal room attendant for the 2009 cruise. After arriving at Travolta's room with a food order, Zanzi claims, the actor complained of neck pain and "pleaded" for Zanzi to touch his neck.
Also read: John Travolta and His Lawyer Sued Over Spa-Encounter Book
Zanzi says Travolta went on to expose his erect penis to him, then "proceeded to forcefully embrace" Zanzi and "forced his naked person and his erect penis against Plaintiff's person causing Plaintiff to experience pain, shock, embarrassment, distress, and fear."
The former cruise attendant claims that Travolta later offered him $12,000 to keep quiet about the alleged incident, and when he told three of his superiors about the encounter, he was segregated in a room for five days until Travolta's stay on the boat was over.
Travolta's lawyer, Martin Singer, has called Zanzi's suit "ludicrous" and "inane."
"This is another ludicrous lawsuit with inane claims," Singer said. "It is obvious that Mr. Zanzi and his lawyers are looking for their 15 minutes of fame."
The actor has been besieged by allegations of inappropriate conduct in recent months. Earlier this year, two men filed a lawsuit claiming that Travolta had touched them in inappropriate ways during two separate massage sessions. The masseurs, who filed anonymously, dropped their suit before retaining the services of media-friendly attorney Gloria Allred. It is not yet known whether they plan to re-file their complaints.
Pamela Chelin contributed to this report.