Jon Heder shot to fame as the dorky hero of "Napoleon Dynamite," a Sundance Film Festival award winner that became the biggest teen movie hit of 2004. Ice skates — and co-star Will Ferrell –then propelled him to even greater heights in the hit comedy "Blades of Glory."
Having done both indies and mainstream Hollywood fare (his credits include "Monster House," "Surf's Up" and "School for Scoundrels," Heder has now branched out into the world of original online programming with "Woke Up Dead," a new live-action sci-fi comedy thriller.
The series, which premieres Tuesday on Sony's Crackle.com as 23 high-quality 4-5 minute episodes, stars Heder as Drex, a 20-something USC student who wakes up one morning to find himself dead.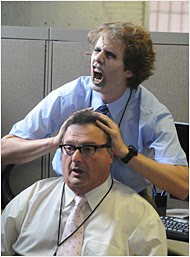 What was the appeal of doing your first web project?
The idea of doing a series that's a little bit more low-key and easily accessible on the Internet was really cool. You can watch each new episodes whenever you want, and there's also a website involved — so there's a whole world you can create. You're not just locked into what you see on the screen.
There's the show, and then there's the message boards, behind-the-scenes stuff, product placement. And we have a lot of footage taken by the actors themselves that you can watch. So there's a lot of spillover in creating this whole world that some people in Middle America might believe is totally real. You go out there pretending that this is a real website created by the characters in the film, so it's got a cool multimedia angle.
This is quite a change of pace for you. How would you describe this? Is it a zombie film?
It's definitely a comedy that plays with the conventions of the zombie-horror genre. It's not that horrific, although there are a few scenes that get pretty bloody.

You have some great co-stars — Wayne Knight ("Seinfeld"), Krysten Ritter ("What Happens in Vegas"), Jean Smart ("Designing Women").
And I get to crush the skull of an irritating co-worker played by Wayne, though it's really just a dream sequence.
How was it playing your first zombie?
I had a blast. Here's the thing — in the very first sequence he wakes up and discovers that he's now dead, so already we've completely changed the genre piece in a way — he's a free-thinking zombie, he doesn't believe he's a zombie. But his friends start to realize he may be, since he's officially dead, he has no heart rate, all his vital signs are gone — but he's also walking around and he has this hunger for brains.
Brains?
(laughs) Yup! So we still have those elements of the zombie genre but we're really playing with it. So it's a tweak on the whole genre.
Obviously you bring something of yourself to every character you play. How much of you is there in Drex?
I think Drex has the weaker parts of myself (laughs). For most of the show he's complaining a lot, but then he has a lot to deal with. He's got student loan payments, he's got problems with girls, he's got an annoying roommate who's filming everything he does. On top of all that, he has no money, and he's trying to get a job. He tries to do the best he can, but he's just a frustrated individual. And when he finds out he's dead, it just makes it all even worse.

So you could relate?
I've had those times where I've woken up feeling sick, and it's more of an annoyance to me that an actual, physical problem. So I could relate, sure.
How different was this than shooting a movie?
I wasn't quite sure what to expect when I signed on, but surprisingly, there's not much difference. It's still a production, and while I suppose it could have felt really different to me, it still feels like shooting a regular film with all the crew members, DPS, directors, call times and the same flow. And that helps as that's what I'm used to.
But they're very short episodes?
Yes, they're each only four minutes long, but you're still working very long days shooting this. There's a lot of looking through the script and going, "OK, OK, what just happened? What happened in the last episode?" So instead of a big, broad story, there's a lot of minute details to work on. And we're shooting on a tight schedule, so it's very full days. And I'm also producing, and I'd like to do more of it. I want to move more into that.
Are you a web surfer?
Not really, although I'm trying to familiarize myself with the whole thing. My co-workers and peers are always telling me to check stuff out. "Did you hear this? Did you see that?" And I'm like, "Er, no." I feel like a grandpa in that sense. I'd rather sit in front of the TV.

What's next?
I'm doing an indie film, "Alive and Well," and then I'm doing this TV show early next year. It's still untitled, but we're developing it for Comedy Central. It's a 30-minute show, and I'm creating it with Gary Sanchez Productions, which is Will Ferrell's company.

Will you work with Will again? Maybe "Blades Part Deux"?
(laughs) That'd be fun, but I don't know if he wants to get on the ice again! He got badly bruised last time.