Kate Beckinsale is very, very pissed off in the new "Total Recall" reboot coming from Sony.
The actress plays Colin Farrell's wife, hell-bent on inflicting a violent death on him. She crashes through ceilings to land on him in bed, throttles a bystander who has information on how to find him, leaps through elevator doors and ends up at his carotid, hisses and shrieks and generally is not terribly wife-like.
The fact that the actress is married to "Total Recall" director Len Wiseman probably has no bearing on her character.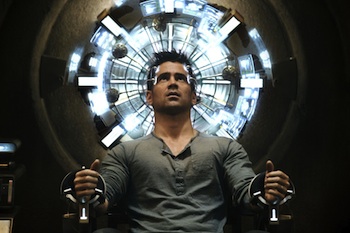 Asked about it, Beckinsale acknowledged, "It was nice to open up the crazy a little bit."
Wiseman and his cast brought the remake to Comic-Con, where they showed scenes of their remake of the iconic 1990 film that starred Arnold Schwarzenegger and Sharon Stone.
Also read: Comic-Con: 'Twilight Saga: Breaking Dawn Part II' Debuts
The film is very different than the Paul Verhoeven version. Farrell plays a man who has his memory altered in a brain equivalent of an opium den and finds himself in a parallel universe with storm-trooper police and hovering police cars careening from one skyscraper roof to another. The look of the film draws on Ridley Scott dystopias, Mad Max and much from the Schwarzenegger canon.
Asked about whether he was nervous about taking on Schwarzenegger's character, Farrell said, "I didn't feel I had to fill his shoes. The original had an absurd sense of humor, the violence had an air of comedy. This is played a lot straighter. I don't have one-liners."
Beckinsale said she felt she could be even more aggressive than Stone's character was. "Contemporary audiences are more willing to see a woman without a right-hand man," she said, adding, "Sharon Stone rocked it. Our tone is very different."
The film will be out on Aug. 3.