Outfest 2011 closed its curtains Sunday with "The Perfect Family," the story of a model Catholic woman's tensions with her dysfunctional kin, starring Kathleen Turner.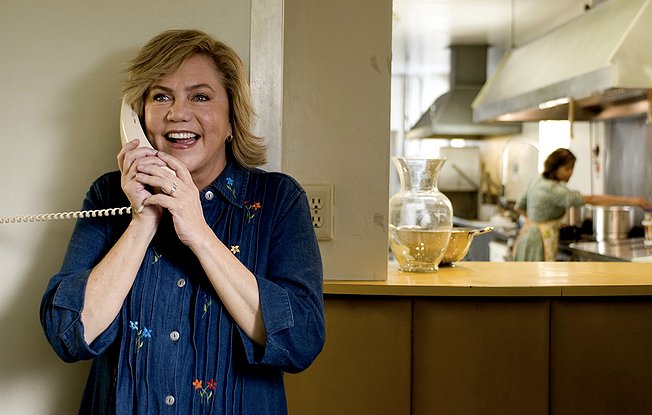 Director Anne Renton introduces us to Eileen Cleary (Kathleen Turner), the raspy-voiced, happy-go-lucky suburban church staple who dedicates her time volunteering in the name of Jesus.
When she is nominated for the coveted "Catholic Woman of the Year" award, Cleary jumps through hoops in order to win, at the expense of her own family.
Also read: Outfest 2011: Highlights of This Year's Festival
Though her personal efforts earned the nomination, the prospect of a family screening and home visit leave Cleary scrambling to uphold her image. Her firefighter husband Frank (Michael McGrady) is a recovering alcoholic, her son Frank Jr. (Jason Ritter) recently ended his marriage and has started up a new relationship with the local nail technician, and her daughter Shannon (Emily Deschanel) has a baby on the way with a lesbian partner Angela (Angelique Cabral).
Turner's complex and heart-wrenching performance provides a window into the life of a woman dedicated to the values and commitments her church dictates, even during her family's darkest times. She stuck with her husband through his alcoholism, and stuck with the church even when it represents a great source of stress.
In her quest to receive some recognition for her sacrifices, however, Cleary learns that a true familial commitment requires acceptance of its members under trying circumstances.
Cleary's most unstable moments show on her face, albeit briefly. We see a glimpse of shock and horror when her daughter announces she is five months pregnant, and re-affirms the lesbian her mother chose not to recognize. These expressions are always followed shortly after by a calculated, yet weak smile.
Always driven to make herself useful, Cleary eases into the idea of taking care of her pregnant daughter, but a backyard lesbian wedding becomes too much — prompting Cleary to get out of dodge mid-ceremony, knocking over a server and her tray of champagne in the process.
The web of lies and cognitive dissonance Cleary employs in her quest for some Catholic recognition causes her to face a Lifetime movie-esque moment of being at the end of her rope.
"The Perfect Family" asks its audience: What is a successful family, and who is defining it? How can the inability to control our image be moments where we are taught the most about who we are and what we can handle?