Katie Couric's new talk show "Katie" beat her many daytime rivals, tying the best daytime premiere rating since the debut of "Dr. Phil" in September 2002.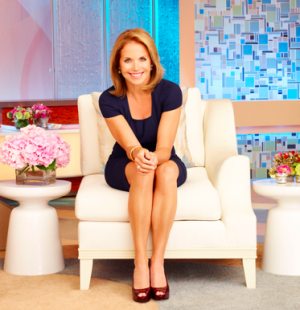 According to preliminary numbers, "Katie" beat last week's premiere of "Steve Harvey" by 87 percent, Monday's premiere of "The Jeff Probst" show by 150 percent, and Monday's premiere of "The Ricki Lake Show" by 250 percent. It also beat the revamped "Anderson Live" with Anderson Cooper by 115 percent.
Also read: Couric's First Guests: A-Listers, '50 Shades' Author, Flesh-Eating Virus Victim
The premiere episode of "Katie," featuring guests Jessica Simpson and Sheryl Crow, scored a 2.8 household rating and 8 share in the 56 U.S. metered markets. It was first or second in its time period in the top 15 U.S. markets.
A decade ago, "Dr. Phil" premiered to a 5.2 household rating. Couric tied a 2.8 rating for the "Rachael Ray Show" premiere in 2006.
The show's early success marks it as the early winner in the increasinly competitive daytime field, which was left wide open when Oprah Winfrey left to create her OWN network.
Also read: Why Anderson Cooper Came Out
"Katie" is executive-produced by Couric and Jeff Zucker, her former producer at NBC's "Today," and is distributed by Disney-ABC Domestic Television.
"Lake" faced one obstacle the other shows didn't: Because of a retransmission feud between Cablevision and the Tribune Company, it did not air in 40 percent of households in the New York City market.
For the Record: An earlier version of this story said Couric tied the debut household rating for "Dr. Phil"; in fact, her show tied for the highest daytime rating since the premiere of "Dr. Phil"