Steven Spielberg, Jeffrey Katzenberg and David Geffen each donated $30 million toward the Motion Picture & Television Fund last week, proving that "Taking Care of Our Own" is more than just the industry's charity slogan and rallying point for the current $350 million endowment campaign.
On Saturday, the MPTF sprinkled talent candy on top of a big financial week with an all-star "storytime."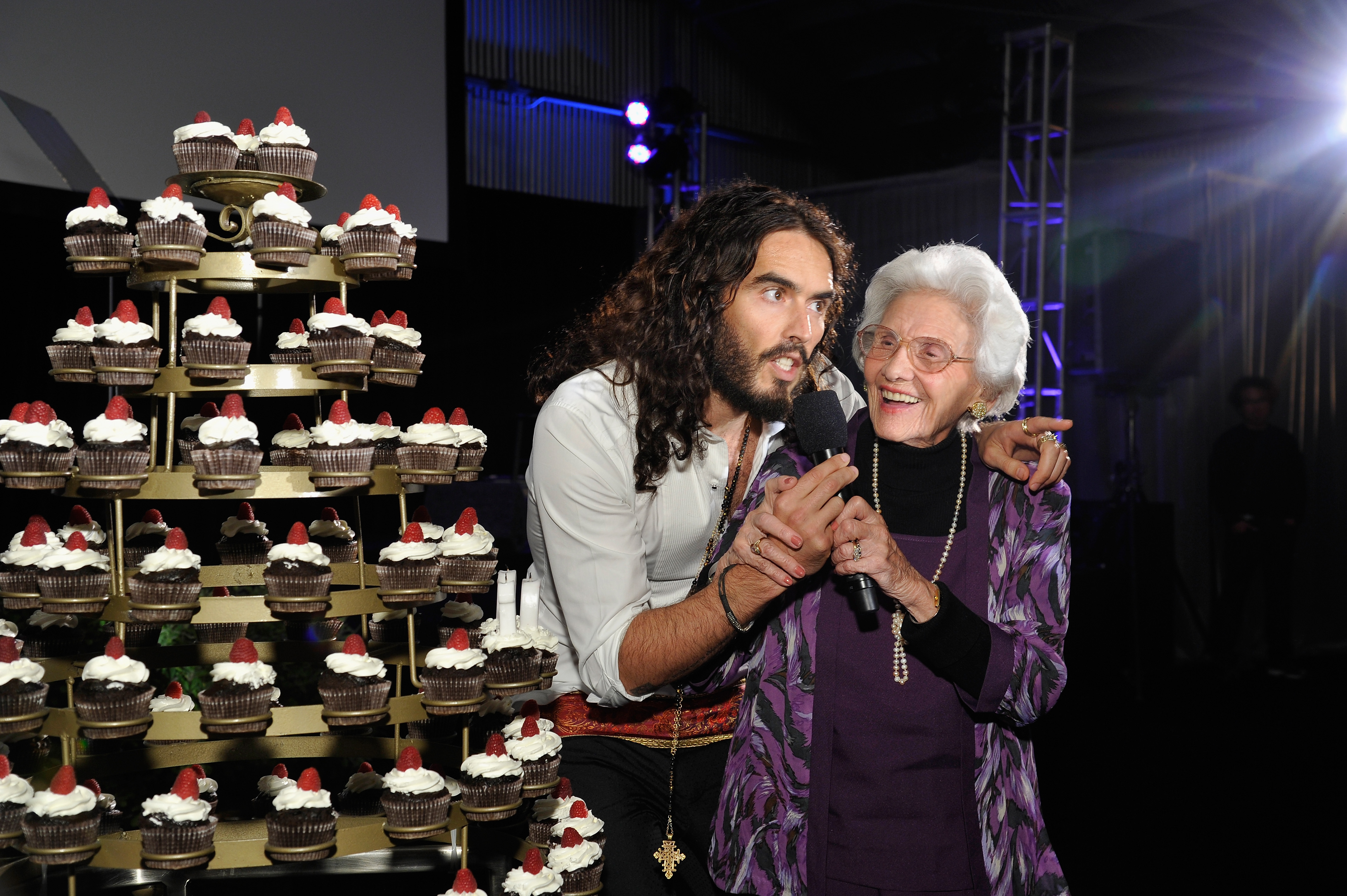 "The way our industry is going, we're going to need a charity," Russell Brand said. "Bloody internet…if it wasn't for the pornography, I wouldn't look at all."
(Left: Brand celebrating an early 100th birthday with honoree Connie Sawyer.)
Thus a shift from fundraising and push for volunteer recruitment came from all corners of the industry as  Brand, Keanu Reeves, Jeremy Renner, Jon Hamm, Armie Hammer and other above-title names hosted "Reel Stories, Real Lives" at Milk Studios.
They shared real stories of  lifelong  middle-class industry workers – some present — who became MPTF beneficiaries. The sobering and sometimes funny stories ("I dated Ronald Reagan when he was a Democrat," said one MPTF resident) of Hollywood's elder statesmen and women came in "TED Talk" format, albeit with A-List talkers.
Split evenly between inspirational stories of 100-year-olds working on "Pineapple Express" and "Saturday Night Live," the flipside provided heartbreaking "horror stories you hear in campaign speeches," as Hamm put it.
"It's nice to know that Hollywood is a community and does help serve as a backstop when people fall in to hard times," Jon Favreau told TheWrap.
"This industry is nobody's second choice," Favreau (above, flanked by Jeffrey Katzenberg and MPTF CEO Bob Beitcher) added later. "I think back on those years when I wrote 'Swingers,' and just to be able to make a living seemed like something beyond my wildest dreams. To make it, feels like a miracle at all."
Favreau pinch hit for Robert Downey Jr., who was stuck on set in North Carolina filming "Iron Man 3." Currently acting in "The Wolf of Wall Street" himself, he excused his mustache as a request of "Wolf" director Martin Scorsese. "It's not for the Ron Jeremy story," he quipped.
Anna Faris told the story of Connie Sawyer, a 99-year-old resident of the MPTF "Country House" home who provided the through line for the night. Faris recounted Sawyer's century in the entertainment industry.
"I'm not the oldest one," Sawyer said of her friends and co-residents, "but I'm the oldest one still working." Sawyer referenced her poker playing pal, 102-year-old Ruthie Thompson, seated a few rows away in the audience.
At the end of the night, host Brand rolled out a 100 cupcake tree and warned her that she doesn't turn 100 until Nov. 27, "so there's still a lot of time."
Hammer and Hamm drew the tough assignments. They each shared upsetting true stories. Hammer told of George Herthel, a location manager on "Ghost Whisperer" and the "Oceans 11" movie franchise, whose friends and support from the MPTF helped him keep a promise to his wife to refurbish his home while he was dying of Lou Gehrig's disease. Hammer descended from the stage and entered the crowd to hug his widow.
Hamm told the story of stand-in and animator Robin Williams, one of the "lesser known Robin Williamses" on Imdb.com. After recounting how she battled arthritis, unemployment and terminal care for her mother simultaneously, he too entered the audience to meet her in person.
(Right: Dawn Hudson and Jon Hamm before the program)
"Parks and Recreation's" Chris Pratt provided one of the lighter notes of the night. He revealed how CAA's corporate volunteer day at the Country Home led to some unexpected return volunteering from agent Ned McNeilage.
On the initial volunteer day visit, the agents' competitive spirit prohibited them from swallowing a loss even at Bingo, "a random game of chance," he said,  against elderly actors and crew looking to exact a lifetime of revenge against agents. From that competitive beginning, McNeilage has become an active volunteer.
After issuing a statement earlier in the week via press release, Katzenberg on Saturday declined to discuss his massive donation, deflecting it to the talent. "It's about them tonight," he said.
Later in the night, MPAA President Hawk Koch called Katzenberg "the greatest humanitarian of this generation."
(Left: Josh Radnor with the MPTF's Ken Scherer)
As one of the haves, Jon Hamm returns to "Mad Men" this week. "I go back to work bright and early on Tuesday, so this is one of the last (events)," he told TheWrap.