There's a moment during HBO's "Confirmation" that may blow your mind: One of the real-life power-brokers shown helping Clarence Thomas through his explosive nomination process is Judy Smith… the same Judy Smith who inspired Kerry Washington's character on "Scandal."
The HBO movie, which premieres on Saturday, stars Washington as Anita Hill and follows the contentious 1991 nomination hearings. Thomas' confirmation was expected to go smoothly. But after Hill, Thomas' former assistant, accused him of innapropriate behavior, a national debate broke out over sexual harassment in the workplace.
Hill was vilified by conservatives on the all-male Senate Judiciary Committee, and Thomas was eventually confirmed despite Hill's allegations. But her case helped change attitudes towards sexual harassment in the workplace and paved the way for more women to be elected to Congress.
Also Read: George H.W. Bush Lawyer: Anita Hill Film 'Confirmation' Is as Realistic 'as Game of Thrones'
Washington rose to stardom playing Olivia Pope, a high-octane D.C. crisis manger based on Smith, one of the country's most famous fixers.
Smith — the same woman who Washington would end up playing in one of TV's biggest hits — served as Special Assistant and Deputy Press Secretary to President George H. W. Bush, where she earned a reputation for being a straight-shooting, highly effective fixer. She was reportedly crucial in helping guide the administration through Thomas' nomination process.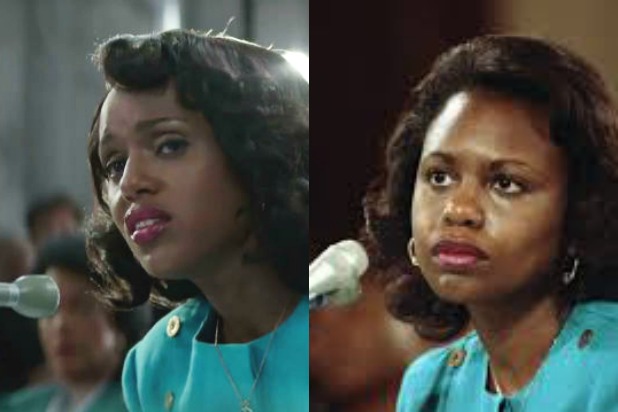 Also Read: 'Scandal' Stars Reveal Cast Member Most Likely to Need Fixer Olivia Pope (Video)
In a possible wink to the audience, producers wrote Smith into a few scenes, including one where she appears uneasy when her camp celebrates Thomas's successful confirmation vote.
She's not a pivotal character in the movie. But she is a reminder that sometimes even the best fiction pales in comparison to real-life drama.