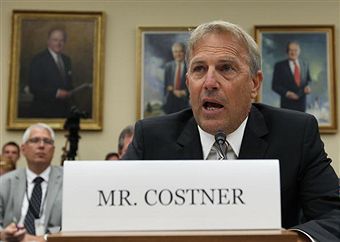 Call it "Waterworld 2: The Big Cleanup."
Kevin Costner testified before Congress on Wednesday, explaining how a company he's invested in already has the technology to begin cleaning oil from the water in the Gulf.
"Am I up here hawking my product?" Costner said before the House Energy and Environment subcommittee. "I guess."
That product, from Ocean Therapy Solutions, is a centrifuge that Costner said can clean 200 gallons of water per minute.
"What I can provide is a technology that is available immediately, a technology that will allow rigs to resume operation and put people back to work," he said.
Last month, BP said it was testing six of the machines, but it wasn't clear if the company had any plans to use them going forward.
Costner has reportedly invested $26 million in Ocean Therapy Solutions.
So if anyone's been waiting for Costner and James Cameron to do a project together, now might be the time. (Cameron, an expert in deep water photography, met with officials in Washington last week to talk about how he could help; BP rebuffed him).