"Billionaire Boys Club," a fact-based thriller whose theatrical release was thrown into doubt after the sexual misconduct accusations against star Kevin Spacey last fall, opened on Friday — but on just 10 screens nationwide.
The film, whose cast includes rising stars like Ansel Elgort, Taron Egerton, Billie Lourd and Emma Roberts, is mostly skipping major markets for places like Solon, Ohio, Chalmette, La. and Pompano Beach, Florida.
You can see it tonight in Brooklyn at Coney Island Avenue's Kent Theater at 10 p.m. If you live in Southern California, you missed your shot — it already played its lone Friday showing at Riverside's Galaxy Mission Grove 18 at 9:30 a.m, according to Fandango.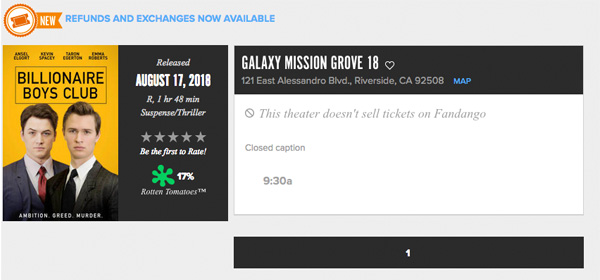 Also Read: Robin Wright Breaks Silence on Kevin Spacey: 'I Didn't Know the Man, I Knew the Craftsman' (Video)
In June, indie distributor Vertical Entertainment pledged to move forward with a domestic theatrical release of the film — a remake of a fact-based 1987 TV movie that starred Judd Nelson — in the name of their hardworking crew and cast.
But the involvement of Spacey — disgraced after a wave of sexual assault and misconduct accusations last fall in the midst of the #MeToo movement — has proven too big for any meaningful release, two insiders told TheWrap.
As TheWrap exclusively reported, Vertical sent up "Boys Club" as an iTunes exclusive on July 14, with limited theatrical to follow on August 17. There were glimmers of hope, as the ensemble drama about prep school boys executing a ponzi scheme sat in the iTunes store top 30 for weeks, charts revealed, alongside titles like "The Greatest Showman" and "A Quiet Place."
Also Read: 'Billionaire Boys Club' Film Review: Kevin Spacey Stuck in Convoluted True-Crime Remake
One major roadblock heading to today's release was a breakdown in traditional promotion. Films with this caliber cast would typically see multiple premieres, red-carpet photo calls, talk show appearances and magazine spreads featuring its stars. No dice here.
The cast and filmmakers were made aware of the pending theatrical release, one individual familiar with the matter told TheWrap, but did not lean on any of the stars to actually promote the film's release.
Executives knew full well the line of questions they'd be in for surrounding Spacey, said the insider.
Also Read: 'Billionaire Boys Club' Film Review: Kevin Spacey Stuck in Convoluted True-Crime Remake
Expansion further into theaters is highly unlikely, a second insider added, as investors seek financial recuperation in late-stage windows like paid video on demand.
"We hope audiences make up their own minds as to the reprehensible allegations of one person's past, but not at the expense of the entire cast and crew present on this film," the Vertical statement from June read.
Spacey has done that for them.