Film legend Kirk Douglas and his wife, Anne, will donate $20 million to the Motion Picture and Television Fund's capital campaign, the Hollywood non-profit said Monday.
The gift will come from the Douglas Foundation, and part of the donation will be used to expand Harry's Haven, the MPTF's Alzheimer's unit, and to sustain dementia care at the organization's Woodland Hills campus.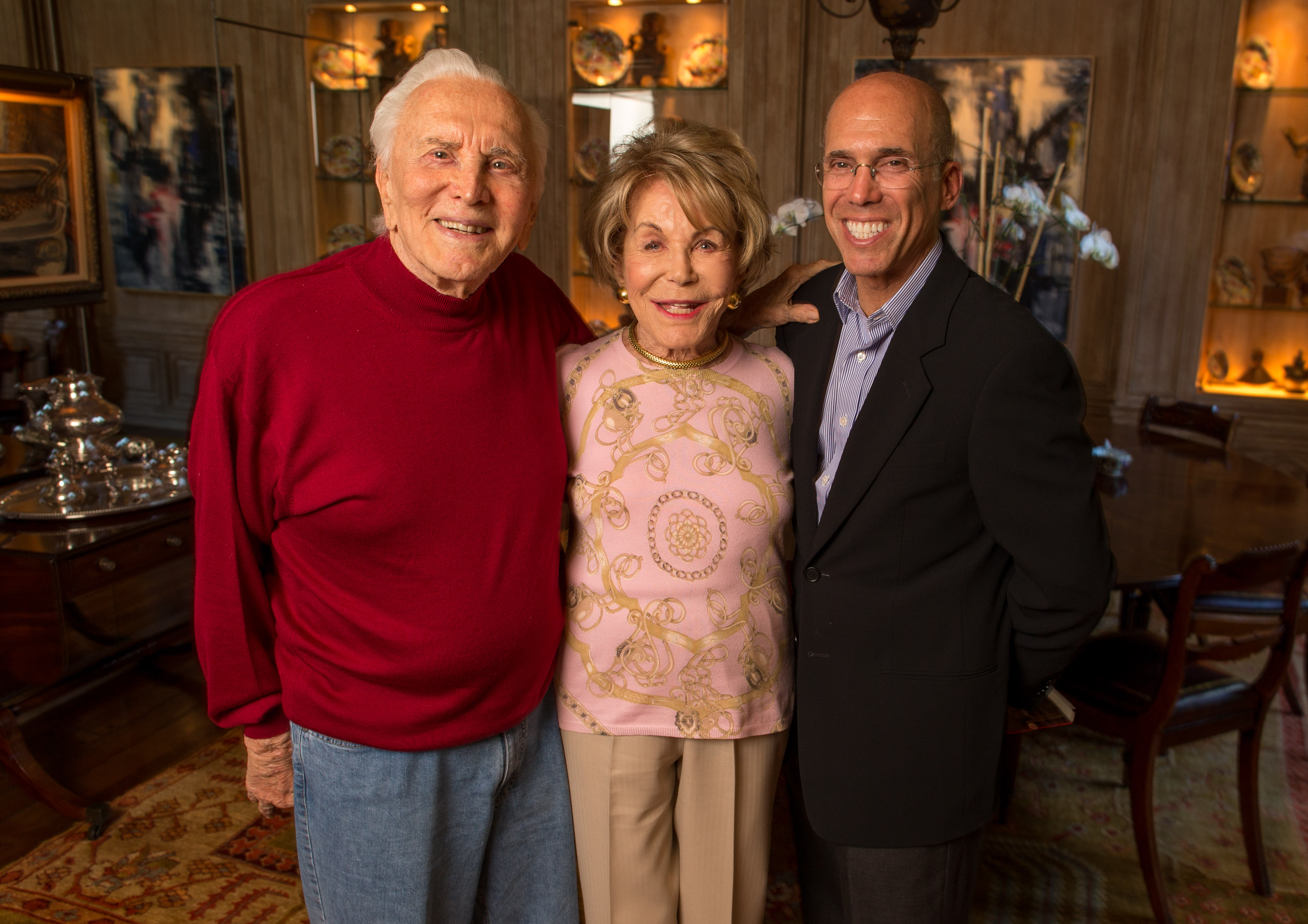 Kirk and Anne Douglas pictured left with MPTF Chairman Jeffrey Katzenberg.
"When Anne and I were deciding how much to give to MPTF this year, we looked again at the wide range of services the Fund provides," Kirk Douglas said in a statement. "Then we doubled our pledge!"
"You know, I believe that giving to others is selfish, because the giver gets so much pleasure from it," he added. "I hope Anne and I inspire many more selfish acts of this kind, especially from the younger generation of entertainment professionals."
The Douglas Foundation gift is the latest high-profile contribution to the MPTF's $350 million, three-year fundraising drive.
Two weeks ago, News Corp. announced it will donate $20 million to the charity and last month media mogul Barry Diller donated $30 million to the campaign. Diller, a billionaire and the former chairman of Fox and Paramount Pictures, currently heads the internet company, IAC/InterActiveCorp.
Among the major figures in the entertainment industry who have contributed to MPTF's capital campaign are construction and entertainment magnate Steve Bing, "Hangover" director Todd Phillips, producer Joe Roth, George Clooney, media and music entrepreneur David Geffen and Kate Capshaw and Steven Spielberg.
That fundraising drive comes after a trying period in the MPTF's history. A controversial decision to close the long-term care facility and hospital in 2009 led to nearly three years of turmoil and strife. It also sparked a grassroots campaign involving patients and their families and a public relation firestorm that persuaded the MPTF's leadership to drop its original plan and keep those facilities open.
In January, the MPTF bowed to pressure and announced it would begin accepting new residents for the first time since it announced plans to close the facility in 2009.
In addition to its work with patients suffering from dementia, the MPTF offers a range of charitable programs, such as financial assistance for rent, mortgage, food and extraordinary healthcare crises to counseling and health care support for uninsured members of the entertainment community.
Correction: An earlier version of this article incorrectly stated that the MPTF board had intended to close Harry's Haven in 2009.