Former professional boxer Laila Ali hosted the Sports Humanitarian of the Year Awards for the second year in a row on Tuesday night, as ESPN honored the leagues, teams and athletes that are using the power of sport to make a positive impact on society.
Before taking the stage at The Conga Room at L.A. Live in Los Angeles for the emotional evening, Ali told TheWrap why this event is so important, especially during this time of conflict and unrest.
"Now more than ever we need to share some love and positivity because of everything that is going on. People are mad and upset," Ali said.
Also Read: Justin Timberlake to Present Icon Awards to Kobe Bryant, Peyton Manning, Abby Wambach at ESPYs
"There is nothing better than recognizing people for the good that they do. It not only informs the rest of the world, but it also inspires those who are doing it to do more and give back," she continued.
The daughter of boxing legend Muhammad Ali is no stranger to philanthropy. Her late father supported causes including the Make-A-Wish Foundation, the Special Olympics and Celebrity Fight Night.
"He did so much — sports was almost secondary, he started off as the greatest in the ring but ended as the greatest out of the ring," she said of her father, who died on June 3 after battling Parkinson's syndrome for many years.
"He changed the lives of so many people who heard his story, read his books … whatever it was it changed them forever, so why can't we all do that on some level?" she asked. "You just have to know that you can bring about change, then make it a priority to do so. That's again why I feel the Sports Humanitarian Awards are so important and why I am honored to be hosting for the second time, because if people are not aware, then they are not going to be motivated."
ESPN president John Skipper also paid tribute to the Greatest of All Time on Tuesday night, telling the audience, "As a kid growing up in North Carolina, I was mesmerized by his charisma and his talent. Ultimately he inspired moments of unification … We could use a little of that right now.
"I would like to express our sympathy and our gratitude," Skipper told Laila, before pledging $100,000 to the Muhammad Ali Parkinson Center.
"I am not going to get choked up as I do have a job to do," Laila replied as she returned to host the show.
Also Read: Muhammad Ali Mourned by Hollywood, Sports Royalty
Another sporting great fondly remembered by all was beloved "SportsCenter" anchor Stuart Scott, who lost his battle with cancer in 2015 at age 49. "We have our own legend at ESPN and his name was .. is Stuart Scott — he gave hope to millions and continues to inspire millions who are battling the disease," ESPN2's "His & Hers" co-host Michael Smith said as he took the stage with Cari Champion.
As for the current crop of athletes honored for their impact on society, Laila Ali was most excited to meet Los Angeles Clippers player Chris Paul and tennis legend Billie Jean King. Paul "works tirelessly to give back to the community, he really is hands on with everything," she said. "He has committed $1 million to renovate the Boys & Girls Club."
She said King, "is just a legend, she has just led the way in women's sports, so I am happy to see her being honored with the Stuart Scott Award."
When King accepted her award, she asked everyone "to think about the last few weeks and how painful it's been. Think about how each one of us are an influencer … We really need to put love into action. We need to speak to people who are not like us, who do not look like us. Everyone has a story to tell."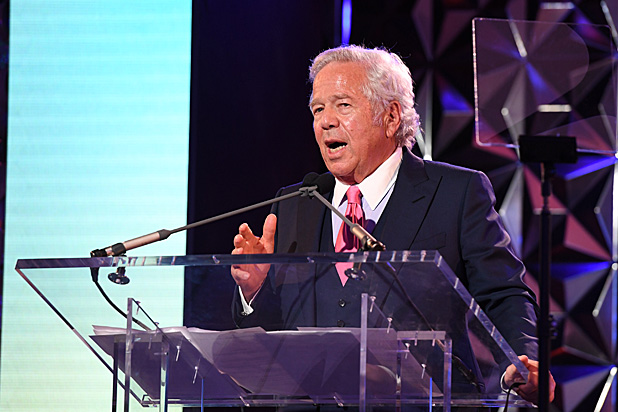 New England Patriots owner Robert Kraft reminded the room that you don't need to be a millionaire or own a sports franchise to make a difference. "We all have to do random acts of kindness — when I go into Dunkin' Donuts, I buy coffee for everyone around me," he said.
"When we first bought the team we made a rule that every one of our players had to do non-profit acts in the community," he said.
Also Read: Craig Sager to Be Honored With Jimmy V Perseverance Award at 2016 ESPYS
The four categories the Stuart Scott ENSPIRE Award are below, with the honorees in bold.
Sports Humanitarian of the Year finalists: Brent Burns (San Jose Sharks), Tina Charles (New York Liberty), Carlos Dunlap (Cincinnati Bengals) and Chris Paul (Los Angeles Clippers)
Sports Humanitarian Team of the Year finalists: Detroit Pistons, LA Galaxy, San Francisco 49ers and San Francisco Giants
Corporate Community Impact finalists: Bank of America, BASF, DICK'S Sporting Goods, Kaiser Permanente and Mercedes-Benz USA
League Humanitarian Award: NBA
Stuart Scott ENSPIRE Award honorees: Billie Jean King, Robert Kraft and the 2015 University of Missouri Football Team
The net proceeds of the event benefit the Stuart Scott Memorial Cancer Research Fund at The V Foundation. Lilly Oncology, along with other Sports Humanitarian of the Year Awards sponsors, supports the V Foundations' quest to end cancer. Additionally, ESPN will grant a collective total of nearly $800,000 to the charities of the nominees and winners, double the amount awarded last year. In total, more than $1 million will be distributed to the community as a result of the initiative.
Highlights of the evening, which featured a performance by Grammy-nominated singer-songwriter Andra Day, will be showcased during a 30-minute program on ESPN on Friday at 7 p.m. ET.