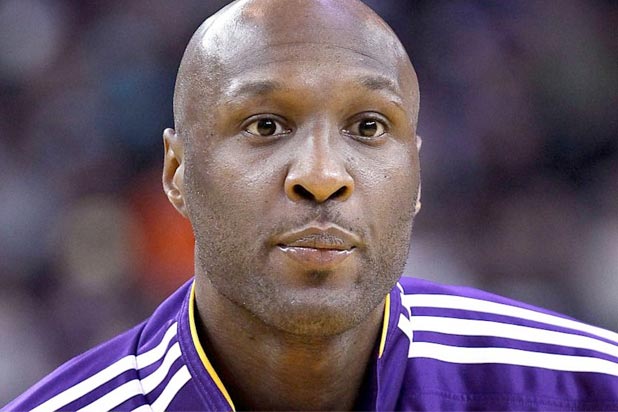 Former NBA star and reality TV personality Lamar Odom is continuing to improve after being transported from Las Vegas to Los Angeles on Monday, with his family saying that he's making "miraculous progress" and is "taking a few steps."
"As Lamar begins a new chapter in his road to recovery PLEASE continue to uplift him and the family in prayer. He continues to make miraculous progress, taking a few steps in Los Angeles," a statement on behalf of his aunt, JaNean Mercer, and the Odom family said Tuesday. "We couldn't be more overjoyed! Lamar's continued improvement we realize will not be easy, however his unrelenting strength and faith in GOD will pull him through."
On Monday, Odom was released from the Sunrise Hospital and Medical Center in Las Vegas and relocated to Los Angeles, where he's receiving further treatment. In Tuesday's statement, the family thanked Sunrise's medical team for its work.
Also Read: Lamar Odom's Kidneys Failing, May Need Transplant (Report)
"Your superb, round-the-clock care gave us the comfort and assurances we desperately needed to know Lamar would persevere," the family said.
The statement concluded, "To everyone from across the nation and around the world who continued to send your love and prayers, we THANK YOU sincerely."
E! Online reports that, while Odom has suffered kidney damage, there are currently no plans for a transplant, and he will remain on dialysis for the time being. While Odom is expected to remain in the hospital for some time, a source told E! that Odom is "more coherent day by day."
Odom was found unconscious Oct. 13 at the Love Ranch brothel in Crystal, Nevada, and was rushed to a hospital in Pahrump before being moved to Sunrise.
Also Read: Lamar Odom, Kardashian Clan Face Stiff Legal Challenge to Silence Brothel Owner
In 911 calls placed on the day of the incident, brothel employees said that Odom had admitted to taking cocaine prior to arriving at the brothel on Oct. 10, though it was unclear if that usage continued over the ensuing days. He also reportedly took "up to 10" herbal sexual enhancement supplements over the ensuing days.
According to brothel owner Dennis Hof, Odom paid $75,000 for round-the-clock companionship from two brothel workers for five days.
The former Los Angeles Laker was joined at his bedside in Las Vegas by his estranged wife, "Keeping Up With the Kardashians" star Khloe Kardashian.