Director Lasse Hallström is known primarily at this point for heart-tugging films aimed squarely at American audiences. His next big U.S. release, "Safe Haven," is, like his earlier "Dear John," a Nicholas Sparks adaptation—not exactly the mark of someone interested in gritty foreign fare.
But Hallström has also made his first Swedish film in a quarter-century and, surprisingly, it's an occasionally blood-soaked thriller. "The Hypnotist" is Sweden's entry in the Oscars' foreign film sweepstakes—and Hallström's bid at not being typed, as he explained after TheWrap's screening of the film Wednesday night at the Landmark Theatre.
"I wanted to show another side," he told TheWrap's editor-in-chief Sharon Waxman and a capacity crowd curious to see the filmmaker's break from form. "I wanted to show people that I may not be as soft-hearted" as recent films would suggest, he added with a laugh.
Except he still is, when it comes down to it, all suggestions that he was doing a strict genre piece to the contrary. "I wouldn't say it's a thriller," Hallström said. "It's a family drama with thriller elements. I felt, at least with the Swedish thrillers that I've seen, that they tend to sacrifice performance for the plot a little bit. It may show in the final result that my key interest was in the family drama, and a little less in the plot."
It didn't hurt, when it came to deciding on the project, that one of the key players in that family drama would be his wife, Lena Olin. She plays the estranged wife of the titular hypnotist and distraught mother of a boy who's kidnapped by a deranged killer.
Waxman asked why Hallström — as someone who's been making films in America for almost 25 years and living in upstate New York for close to 15 — didn't just transplant the action to the U.S., even if the source novel was Swedish.
"Maybe I could've," he said, "but it was just a coincidence of not finding a script here that I really liked; being homesick for Stockholm, Sweden; finding a part for Lena; wanting to do a thriller; and getting back to working with people in Sweden that I really enjoyed working with (long ago). Watching Lena flourish speaking Swedish was great, and I think it was liberating for her to speak the language and improvise and play around with the material."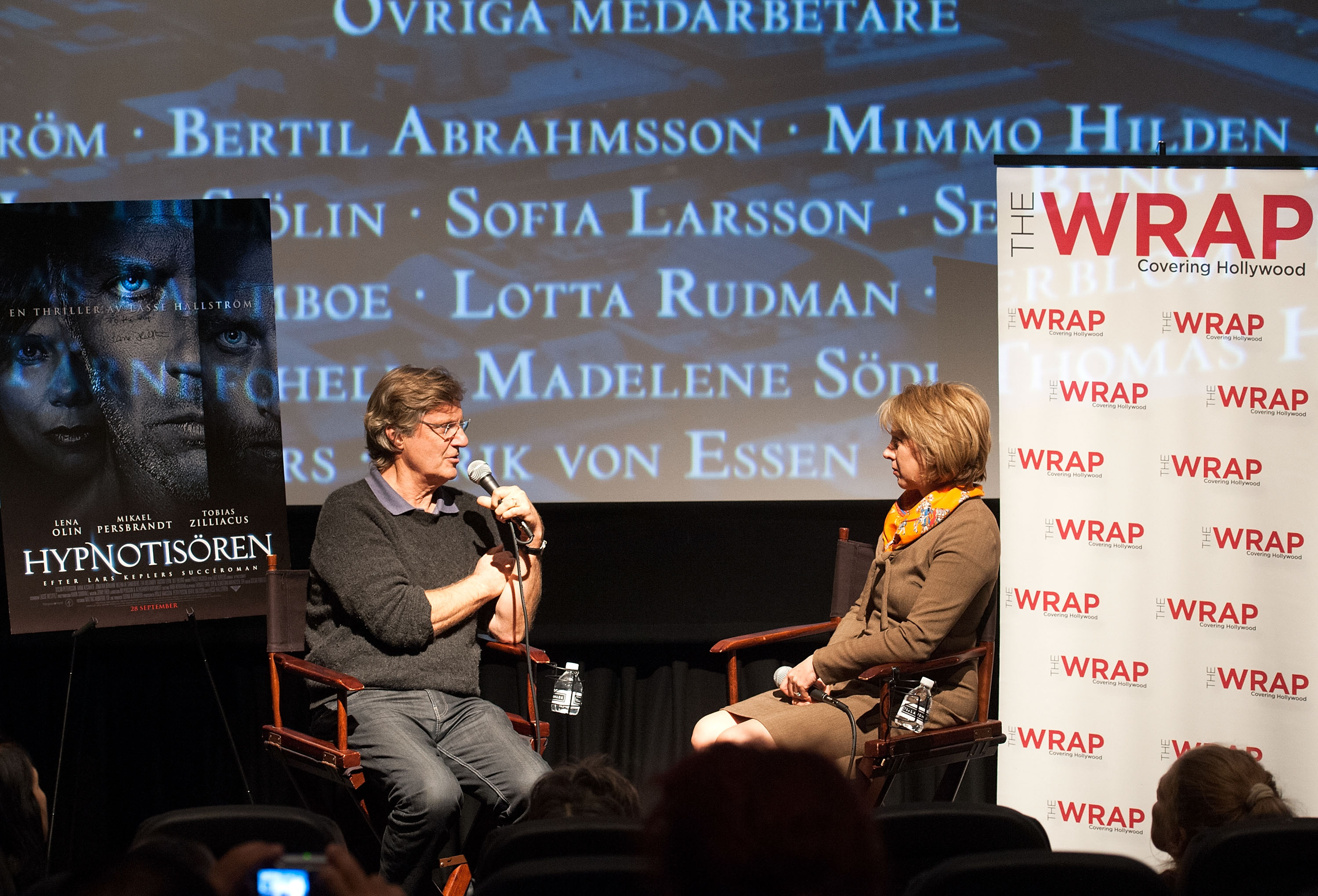 "The Hypnotist" is a heavily narrative film, with the relentless pacing you'd associate with any U.S. thriller, but Hallström didn't necessarily take immediately to the form. He brightened when talking about the improvisation of the family scenes, but put an intonation on the word "plot" that made it sound like an epithet. "Making a film like this, you struggle fighting the clichés and trying to breathe life into characters that don't have life on the page," he said, speaking of the story's two disturbed villains in particular. "I may not be the guy to do these kind of films," he finally admitted with a laugh.
But there's little doubt that "Hypnotist" could broaden Hollywood's image of him as a heart-rending go-to guy.
Looking back over his career, he still referred to 1985's "My Life as a Dog" as his career peak. ("You should see it!" he urged the younger members of the audience, reminding them it's a Criterion Collection title.) Hallström was harder on other films, like "The Cider House Rules"—pointing out the lavishly emotional score as something he regretted, after his early years of using minimalist music in films like "Dog."
"The performances are great" in "Cider House Rules," he said, but "it has a score that unfortunately rings a little bit pushy. That score was beautiful, but just not right for the film, and not the kind of score I probably would have dared to do just two years earlier. You get a little numbed coming to America and spending time here. You go to the movies and the strings are soaring, and they keep soaring when you go to bed and when you go to work the next day. You have no problem adding the strings because you've heard them all around you"—until you live to regret it because you realize the orchestration has helped give you a reputation for tending toward syrup.
"It's hard to believe looking at my credits now, but I was so afraid of the sentimental," the director said. "And I still am, believe it or not. Because I'm drawn to that kind of material, but I keep fighting sentimentality. But I'm drawn to sentiment. I keep walking that tightrope walk, and probably I get into the wrong side at times. But I really am just drawn to moving people in a truthful way with performances that ring true, and observations of real human behavior that we can recognize and relate to. All that is the fuel for my engine, why I make movies. And then I end up doing things that now I hear they step into sentimentality—despite the fact that I throw up when I see a movie that pushes the sentimental. So I want to stay away from that. Still."
With a movie that pushes the body count more than it pulls heartstrings, Hallström seems to have gotten his wish in a big way. As for "Safe Haven," which is set for a spring release (and will open in America before "The Hypnotist" does), that's anyone's tearjerking guess.