Nicholas Sparks majored in business and finance and later worked as a pharmaceuticals salesman — a soul-enriching experience that led to such soul-enriching novels as "The Notebook," "Message in a Bottle," "Remember Me." "Nights in Rodanthe" and "Dear John." Each bestseller later became a successful movie, leading to his latest sure-fire hit out Wednesday, "The Last Song."
In it, Miley Cyrus stars as a disaffected teen alienated from her father with whom she comes to spend the summer in a North Carolina beach house. In time she finds romance with a local boy, saves turtles and rediscovers her musical voice.
Sparks talked to TheWrap about drawing the line on premarital sex, bristling at "melodrama," kings and queens and losing his sister to cancer.
I know you're a Christian but I don't see any proselytizing in your movies.
No.
As a Christian, do you get angry with the way your faith has been co-opted for political purposes among the right?
Yeah, I'm kind of centered in the belief that I'm not smart enough to presume to understand the will of God. I don't know who's going to heaven, who's going to hell.
My sister died of cancer in her 30s. She was a nice lady. She was 33 years old. She had two kids, never said a mean word to anyone. Why did she die? I can't make heads or tails of it. So if I can't answer these kinds of questions, I certainly can't pass judgment.
You've said you don't write about kids having premarital sex, but looking at the young couple in "The Last Song" their body language says it all.

You can have passion without going all the way. I certainly didn't do it in the novel, and it wasn't written into the screenplay in any shape, matter or form.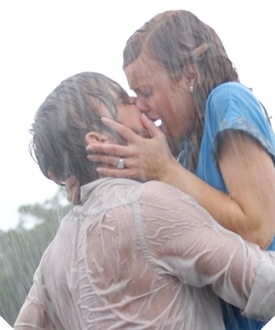 If you're 17 and even if you haven't, for instance, gone all the way, you can still know what love is. And that's really what you want to accomplish in a film like this — that passion that the women in particular in the audience are looking for. They love that rush of falling in love.
How was it working with Miley Cyrus?
I did talk to her a little bit about what she wanted to and what she didn't want to do. She didn't want to sing, but there could be a music element. I put in piano and that, of course, led into the title of the story itself, "The Last Song."
She loved animals. She didn't want her father, Billy Ray, in the movie. And then I pretty much secluded myself for eight weeks and said, "OK, knowing those few things, here's the story."
Miley and her co-star Liam Hemsworth became a real-life couple on set. How does that change the dynamic among the core creative group?
Only in a positive way, because one of the most important things that you need in a film like this is chemistry between your couple. So it worked only in the positive sense.
Let's talk for a moment about your sister. She died of cancer back in the '90s. Your books always involve someone in mortal danger. How much does your work serve as a catharsis?
Well, less than you would think. It's not cathartic. I do draw on those experiences when I'm trying to craft such scenes. You want to move the viewer through the entire range of human emotion. Thrillers are supposed to thrill you and horror is supposed to scare you and comedies are supposed to make you laugh.
What I do is to try to move you through all the emotions so that you feel like you've lived a little mini life. Now, sadness is part of the emotion of life. Sometimes it's not always a person. I killed a dog in my newest book, "The Guardian."
Your books — and the subsequent films – are popular with audiences, but critics have been tough on you. Why do you think that is?
It goes part and parcel with what I do. But the only reviews I bristle at are the ones that are wrong, factually. I'd say, "Well, obviously you don't like it because you missed the whole point!"
I've had my share of good reviews. I've had my share of bad reviews. I don't really worry too much about it, to tell you the truth. If you look at "The Last Song," in the end that thing will be viewed or read by 100 million people. Some people ain't gonna like it.
You seem to bristle at the term "melodrama." Do you see it as a pejorative?
No, I bristle at it because it's used as a pejorative inaccurately in reference to me. The difference really comes down to the fact that while drama attempts to evoke genuine emotion, melodrama attempts to manipulate that emotion. The way we do it in "The Last Song" is very subtle. It didn't verge into melodrama.
"Last Song" was your first actual screenplay; will this impact the way you write novels?
No, not so much. The hard part about writing a novel is the original story and coming up with a new twist on an old story. For instance, if you look at "Dear John," in a nutshell that is an updated version of "Casablanca," which you probably never noticed because it was such a new twist. So that's the real challenge.
You've completed the script for "The Guardian."
Yeah, but I probably won't go out with it this year because they're starting to film "The Lucky One" in May. "True Believer" is going through whatever — and "At First Sight," that is in negotiations right now. And then I'm writing another novel, which already had everybody seriously clamoring for it. Two movies is a lot in one year. I don't know if I want to do three.