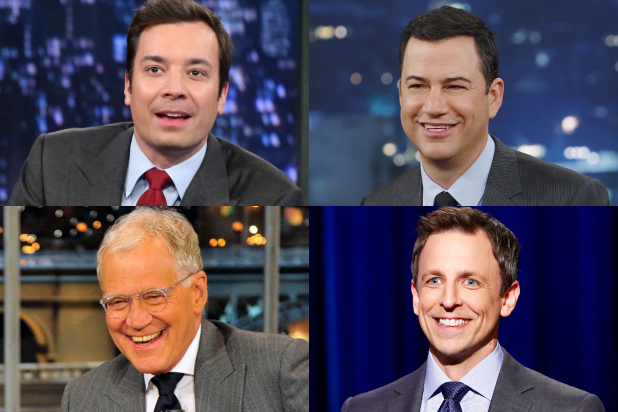 Another quarter down and another ends with NBC on top.
Jimmy Fallon, in his first full quarter as "Tonight Show" host, scored a 1.29 rating/6 share in 18-49 demographic for the quarter, according to "most current" averages from Nielsen Media Research. That number is good enough to best the combined numbers of "Jimmy Kimmel Live" (0.67) and "Late Show" (0.51).
David Letterman's program didn't even top Seth Meyers' "Late Night" (0.57) an hour later. While there was surely some sampling viewership for Meyers, he debuted in Q1 and Letterman announced his retirement and replacement in Q2.
Also read: Cable News Ratings: Everyone's Down and No One Is Happy
"Tonight Show" predictably dropped from Q1 to Q2, as the first quarter of the year was a perfect storm of strong ratings on NBC late night TV: Jay Leno bid farewell to the role, Fallon debuted and the Sochi Olympics served as lead-in for part of February.
For Kimmel, ABC is boasting the show's biggest quarter to date, with 2.67 million viewers. That total, while not near Fallon's 3.97 million, edges out David Letterman's average of 2.66 million for Q2.
From year-to-year, Kimmel ticked up 10 percent in the demo for the three-month period. "Tonight," conversely, is up 52 percent.
Also read: World Cup Shocker: Top Game Ratings Bigger Than World Series and NBA Finals
At 12:35, ABC's "Nightline" and NBC's "Late Night With Seth Meyers" split the metrics: "Nightline" averaged a 0.42/2 and 1.70 million viewers, Meyers pulled the above-mentioned 0.57/4 and had 1.58 million viewers.
CBS' "Late Late Show" was third in both measurements, averaging a 0.36/2 and 1.40 million viewers.
"Last Call," the lone 1:35 show, had a 0.32/3 and 848,000 viewers.