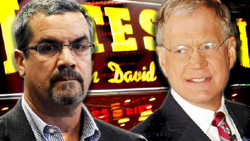 Robert "Joe" Halderman, the former CBS News producer who tried to extort $2 million from David Letterman last fall, began serving his six-month jail term on Tuesday.
Halderman pleaded guilty to attempted larceny in March in exchange for the sentence, as well as four and a half years probation and 1,000 hours of community service.
The 52-year-old "didn't speak before he was led from a Manhattan court in handcuffs to begin his jail sentence," according to the Associated Press.
As part of his plea arrangement, Halderman also agreed to four and a half years of probation and 1,000 hours of community service. The ex-"48 Hours" producer had been facing up to 15 years for grand larceny.
"I feel great remorse for what I've done," Halderman told the judge in March. "I apologize to Mr. Letterman and his family."
Last November, Gerald Shargel, Halderman's lawyer, asked a New York judge to dismiss the grand larceny charges against his client. (At one point, Shargel even invoked a Tiger Woods "defense," arguing "that if it's not a crime for mistresses to seek payoffs from the golf great, his client shouldn't be punished for trying to make a deal with Letterman.")
In court papers, Shargel argued, "A hard-driven, arm's-length commercial transaction does not constitute extortion."
But in striking a plea agreement, Halderman's story changed. He said his $2 million demand from Letterman was "not a legitimate business transaction," but a "thinly veiled threat."
More to read:
Letterman Sextortionist Pleads Guilty, Gets 6 Months