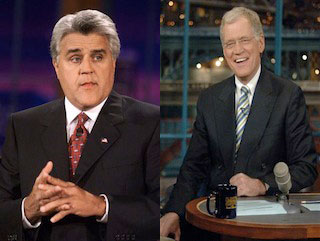 CBS' "Late Show with David Letterman" tied NBC's "The Tonight Show with Jay Leno" in the adults 18-49 demo for the week ending June 11, the first time it has drawn a similar rating in the demo since Leno returned to late night in March.
Both shows posted 0.9 ratings in the demo, according to Nielsen Media Research data. Letterman has traditionally drawn a younger audience than 'The Tonight Show,' although Leno got a boost upon his return. The shows also tied in the 25-54 demo though, each averaging a 1.2 rating, and both averaged a 2.5 household rating.
Meanwhile, ABC's "Jimmy Kimmel Live" averaged the most 18-49 viewers in late, late night, with 783,000, to top NBC's "Late Night with Jimmy Fallon," which averaged 730,000 viewers in the demo, and CBS' "The Late Late Show with Craig Ferguson," which averaged 645,000.
However, "Ferguson averaged 1.67 million viewers overall, nudging out "Kimmel,' which averaged 1.64 million total viewers, and "Fallon" which averaged 1.51 million.
For the week, "Kimmel" also scored its best adults 18-34 viewer number in more than two years, drawing 356,000.
ABC has been airing a special half hour edition of "Kimmel" in prime time on the same nights as the NBA Finals and that additional exposure could have also helped in drawing more younger viewers to his late night telecasts.