COVID-19 can't stop Christmas from coming. And it can't stop Lifetime from including crowds of people in their 2021 holiday TV movies either, thanks to the widely available COVID vaccines and safety protocols that have been implemented over the past year that make it safe to once again fill the small-screen with extras to make scenes even merrier and brighter.
"I would say we learned a lot. You know what, it really actually wasn't that much of a conversation piece about how to get them done in quite the same way as it was when we were just learning and learning and learning and leaving with the information," Lifetime head of programming Amy Winter told TheWrap regarding how much production has changed on the cable channel's 2021 holiday movies versus the year-ago slate, which was their first go-round during the pandemic.
"So across the board, I think our movie team has gotten into a pattern and a groove on how to produce amidst all of this still. And some of the things that I'm excited about is we're able to do this safely. But bring back, I think, some of the things that people were missing in the movies that were produced last year. An example, there's going to be people in the background! (laughs). We had a movie last year with Melissa Joan Hart and Jason Priestley ['Dear Christmas'], where they were supposed to be at this Christmas ball and we had to rewrite it so that she had to do something. And she shows up late and he's the only one there."
Winter continued: "This year, there's actually going to be people gathering. We were able to figure out how to do that safely. And we actually think that that's a key trend that people want to see in the movie this year, is see people gathering, see people coming back together out of this pandemic, because I think it's something that everybody's looking forward to doing this holiday season in a way that they weren't able to last year."
Lifetime's first holiday movie of the season, "An Ice Wine Christmas," debuts Friday, but Winter is excited for many more films coming in the weeks leading up to Christmas 2021, including titles with Reba McEntire, Mario Lopez, Tia Mowry-Hardrict and Smokey Robinson, just to name a few.
Read more from TheWrap's interview with Winter about this year's Lifetime original holiday movies below.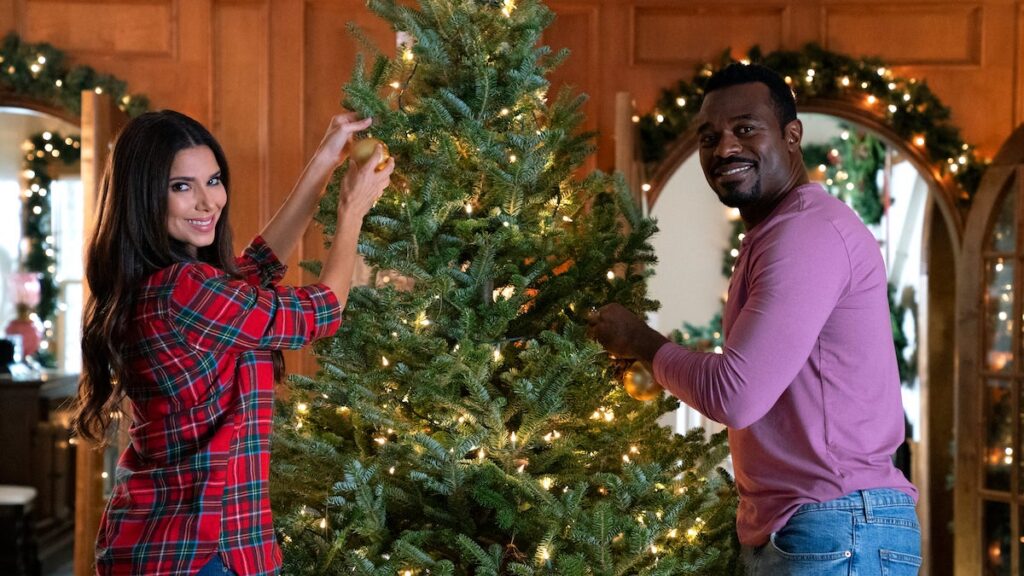 TheWrap: Last year, you explained how plexiglass was used on one Lifetime movie in order to protect the actors from the potential spread of COVID-19. Are there similar measures that have once again been taken this year, even though we are in a post-vaccine world?
It's funny, I have not heard that we've used any sort of plexiglass scenarios this year. I think that everybody really started to figure out the protocols and the pre-testing and the quarantines and all of that stuff. So I am excited to say that the holiday romance is fully back and people will kiss and have wonderful happy endings. And so even though it's still not normal times yet, there was a certain amount of feeling like it was a return back to what everybody really loves and expects from these movies.
You have some new big-name stars joining Lifetime's holiday slate this year, like Reba McEntire, in addition to returning Lifetime Christmas movie favorites. How was it casting some hard-to-get talent now that the vaccine is available making production safer, but many people are still reluctant to go too far from home?
It actually worked its way into another theme that we think that people are interested in post-COVID era and that is the idea that a lot of us haven't been able to travel in the way that we've been used to. So some of that living vicariously through scenery has been of primary importance for us to cover … And so we shot these movies wherever we felt like we could do them safely and wherever we felt like we could actually get that talent you're talking about. As you know, we shoot a lot of these in Canada, and not everybody wanted to go up there. And at different parts of the year, the travel between the two countries and the protocols would shift and change. But we've shot a number of movies in the U.S. this year. We've got Montana, Georgia, New Mexico, Michigan, Tennessee, Utah and Connecticut. And so what we were able to do was approach some of these big stars and some of the returning, beloved stars that we have and say, "OK, what makes the most sense to get you back on our screen, do it safely and and have a great movie?" So flexibility has been the name of the game, for sure.
Reba you have for "Reba McEntire's Christmas in Tune," and a deal to make a second film for Lifetime, correct?
Reba was just such a huge get. I mean, who doesn't love Reba McEntire? She's amazing. So filming that in her backyard was very important for us, just so that we could make sure to get her. She is a busy woman and she's been absolutely great to work with. So that movie and bringing John Schneider on as her romantic lead, I just felt like the team was inspired with that. I just think the chemistry between them is incredibly fun to watch. But a huge get for us and we're thrilled to have her in our Christmas season. And yes, we do get another opportunity with her moving forward.
What other movies are you most excited for on this year's schedule?
They're all like little presents that we get to open up. I would say that I'm really touched by Mario Lopez's movie, "Holiday in Santa Fe" (premiering Dec. 10 at 8 p.m.) it came to us as a real love letter to the Latinx community and celebrating those traditions. So I'm very excited about that. It's a fun movie, but it's got a lot of heart in it, too. And the other one that I think is just a fun idea is Tia Mowry is back and her movie ("Miracle in Motor City," premiering Nov. 28 at 8 p.m.) is based on her trying to help out the town festival and concert. And this is in Detroit. And she has the idea to try to go get Motown legend Smokey Robinson to perform for it. So it's basically her trying to chase him down and get him to agree to help save this town's concert. So I just thought that was a lot of fun working with him and he's just so iconic. I'm very familiar with the talent in the faith and gospel world and Kirk Franklin is such a huge name and talent in that world and that space, and we got the opportunity this year to work with him on "Kirk Franklin's A Gospel Christmas," (premiering Dec. 4 at 8 p.m.) So that's just another one where the music in it, the hair on my arms stand on edge when they sing. It's just beautiful. That was a really exciting high point for us to work with him.
Lifetime's holiday movie slate kicks off Friday with "An Ice Wine Christmas" debuting at 8/7c.