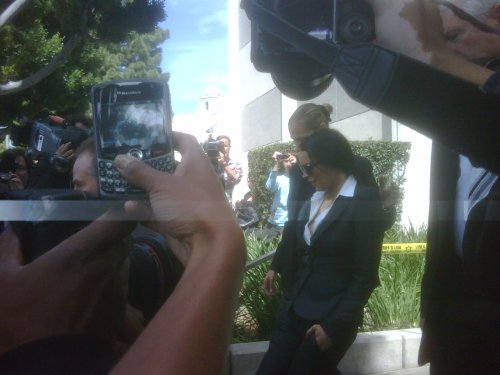 UPDATE 11:00 a.m.:
Lindsay Lohan was fitted with an alcohol-monitoring ankle bracelet in the courtroom, and the judge added a condition to her probation: that she appear May 27 at the Los Angeles County probation department.
UPDATE 8:40 a.m.:
With only a "Yes, your honor," an exhausted-looking Lindsay Lohan met the strong hand of justice Monday morning in a Beverly Hills courtroom.
Seated before judge Marsha Revel in a hearing rescheduled from Lohan's May 20 missed court appearance, the actress was placed under renewed strict probation conditions.
As expected, Lohan, who showed up in a dark gray suit and wearing sunglasses, will be outfitted with an ankle bracelet within the next 24 hours, is to consume no alcohol whatsoever, and will be subjected to random drug testing weekly.
The judge, who took a day off her scheduled vacation for this hearing, refused all arguments from Lohan's lawyer, Shawn Chapman Holley, to allow the actress not to be outfitted with the SCRAM (Secure Continuous Remote Alcohol Monitor) device due to upcoming photo shoots and upcoming filming in Texas.
After some conferring between Holley and Lohan in court – where the lawyer was clearly seen telling her client, "We don't want to go there," as in angering the judge further – Lohan accepted all conditions of her probation, as well as, surprisingly, offered to accelerate and attend more classes in her alcohol program.
Revealing the lack of wiggle room the actress now has with the law, Revel told Logan and her lawyer that any missed drug test would have the same consequence as a dirty test — a result that would see Lohan back in court and perhaps immediately behind bars.
After a 30-minute hearing, the media and onlookers were removed from the court room, "as arrangements," according to one court official, were being made for Lohan's SCRAM bracelet. It is unknown if Lohan will be fitted for the bracelet in court this morning or later today.
Lohan's father, Michael, who appeared at the May 20 hearing, was not in court, nor were any other members of the actress' family.
The next hearing is scheduled for July 6 at 8:30 a.m. at the Beverly Hills Los Angeles Superior courthouse.
EARLIER:
After one stolen passport, one film festival party circuit, several missed alcohol program sessions and one angered judge, Lindsay Lohan will finally face the court.
Scheduled to start Monday morning at the Beverly Hills courthouse, Lohan's appearance might not see the "Mean Girls" actress behind bars — but it will likely see her fixed with a SCRAM bracelet, plus conditions to not drink any alcohol and to submit to random weekly drug testing. All this came about after a probation progress hearing last Thursday that Lohan missed because, as she claimed, she was stuck in Cannes with no passport.
That didn't sit well with Judge Marsha Revel, who slapped an arrest warrant and a $100,00 bond on the delinquent actress.
Lohan's absence turned in to yet another circus in a long line of such Lindsay bedlam with Shawn Chapmen Holley, the actress' lawyer, pleading for understanding and indulgence. Those pleas were met with a stern "actions speak louder than words," by Revel.
"She has a history of not keeping scheduled appointments," said the judge, who has taken a day off her vacation to oversee Monday's hearing, "I couldn't have been more clear about the importance of this case."
Shielded by shades and a black, wide-brimmed hat, Lohan, who escaped potential arrest by having about 10 percent of her bond paid hours after the May 20 hearing, did return to the U.S. on Saturday. The actress, whose attempted comeback has hit one self-created roadblock after another, was rushed into a waiting car at LAX without a word to the press.
Part of Monday morning's hearing will be to answer concerns the Superior Court judge has expressed that Lohan has not been meeting the requirements of her alcohol education classes.
The classes, which the actress is expected to attend once every seven days unless she is in rehab, are part of her three-year probation from a 2007 guilty plea for driving under the influence of alcohol and cocaine and reckless driving.
Charles Marshall, the director of the Right On Programs Inc., has stated in documents filed with the court earlier this month that the actress is in "program compliance" and "now attends regularly and consistently communicates in a timely manner to reschedule if necessary."
As TheWrap reported previously, Holley, Lohan's lawyer, has admitted there had been some "misunderstandings" in the past with the actress actually showing up every week for the program. However, Holley, as she reiterated at the May 20 hearing, now says "Ms. Lohan is in substantial compliance with the conditions of her probation."
We'll see if that is enough for Revel.