There's been plenty of publishing-industry posturing to go along with the buzz since Apple announced the iPad in January.
Many companies have been quiet with their plans, opting for a wait-and-see approach. But much is coming to light — some of it on Thursday, just hours before the device hits stores.
Here's a look at which publishers and media companies are doing what in the weeks and months ahead.
SEE ALSO: Hey iPad Seekers: Line up Early Saturday
Movies
Apple is making movies and music available on the iPad the same way it does on its other mobile devices: through the iTunes Store. The iPad doesn't have a DVD-R drive, so you can't play DVDs on the iPad directly. (There are, however,
workarounds
if you have a geek in your family.)
And, apart from Disney, most studios have been uncharacteristically quiet ahead of the iPad launch.
According to CNET
, Apple "hasn't done much iPad-related planning with the studios."
Studio participation, in fact, is so far limited to the same kind of games you can already get on your iPhone, with an increased quality. Warner Bros. has
created
a $2.99 game for "Sherlock Holmes" that takes advantage of the iPad's 1024×768 touchscreen, and Paramount is charging $4.99 for a "Top Gun" game app.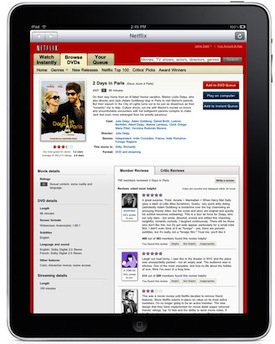 But movie fans will have at least one new alternative: Netflix.
The mail-order rental giant has developed an iPad app of its "Instant Watch" feature, which allows subscribers to stream from a library of more than 17,000 films via web-enabled set-tops, videogame consoles or online. Netflix subscribers who already pay $8.99 per month or more will have free access to the app, which is scheduled to be ready by Saturday.

Television
On Thursday, CBS and ABC said they were working on offering free iPad versions of certain TV shows – like "Survivor," "How I Met Your Mother" and the "Late Show With David Letterman" — on the iPad, the first networks to admit to doing so.
According to one report in the Journal
, the networks plan on streaming the shows via the iPad's Wi-Fi Internet connection "with commercial breaks." (ABC will use a dedicated app; CBS via the iPad's Safari Web browser.)
Disney announced a slew of applications for the iPad: the ABC Player app that will allow users to watch free, ad-supported versions of 20 shows; an ESPN ScoreCenter XL application similar to the one that's been downloaded 5 million times on the iPhone; a pair of "Toy Story" read-along applications for the iPad launch, with "Disney Princess," "Phineas & Ferb" and "Winnie the Pooh" on the way; and a Marvel Comics App that includes access to over 500 classic comic books. (That Disney is bullish on the iPad shouldn't be surprising; after all, as
Peter Kafka notes
, Steve Jobs is Disney's single largest shareholder.)
What may curb that geeky enthusiasm: reports that Hulu plans on testing a subscription (read: not free) model on the iPad.
Newspapers
The New York Times was showcased during Apple's much-hyped iPad demonstration on January 27. "We think we captured the essence of reading a newspaper," said Jennifer Brook, one of the developers and designers for the Times. What they showed during the demo was something like the Times Reader, which the paper offers for $3.45 per week for laptop users.
For the iPad's rollout, the Times will be offering a free application called "
NYT Editors' Choice
" offering "a limited selection of news, opinion and features that are automatically updated to your device."
There will be a paid app, too, and what the Times will charge for it has been the
subject of a tug of war inside the company
. Reports have circulation-side executives wanting to charge $20-$30 per month, so as to not cannibalize print, while the digital team is pushing for a $10 per month price point. Neither the Times nor Apple have announced exactly what the app, or price, will be.
Like the Times, the Wall Street Journal has been mum on its short- and long-term plans for the iPad. But
according to a story published in the Journal last week
, WSJ is currently working with test iPads and plans to charge $17.99 a month for a subscription to the paper – with development costs subsidized, at least in part, by six advertisers. Coca-Cola and FedEx are among those who have agreed to pony up $400,000 each for a four-month iPad ad package.
According to Poynter
, NPR, USA Today, Bloomberg, the Associated Press and Reuters are among the media apps launching with WSJ and NYT on the iPad on Saturday.
Magazines
Of all the magazines with big plans for the iPad, Condé Nast's Wired would seem to be the perfect fit, given its tech-savvy audience, subject matter and D.N.A. And, true to form, Wired is going to be one of the first Condé titles ready for the iPad, with a release slated for later this summer. (Check out
the slick demo video
Wired unveiled at the TED Conference earlier this year.)
Editions of GQ, Vanity Fair, The New Yorker and Glamour for the iPad are in the works, too, Condé Nast
said
. (Only GQ's, however, is expected to be ready for the April 3 launch.)
David Granger, editor-in-chief of Hearst's Esquire, has spent the better part of three years kicking and screaming about the industry's lack of innovation when it comes to the printed magazine. And he's been trying to move the needle, albeit with what some critics refer to as gimmicks (the industry's first e-ink cover, "flip" cover, iPhone editions, novellas in the margins, etc.). Now, with the iPad, Granger has a legitimate chance to see some of his ideas come to life on a tablet screen. Hearst plans to charge $2.99 per issue of Esquire on the iPad, though it won't be ready April 3.
Like most magazine publishers with iPad editions in the pipeline, Time has at least six advertisers signed up for its first iPad edition,
according to the Wall Street Journal
. And Sports Illustrated has been
showing off a versio
n to agencies on Madison Avenue. But it's unclear if those editions will be ready on April 3.
Books
In terms of
wars
, the build-up for the iPad's entrance into the battle over e-book marketshare — and
its effect on the debate over pricing of e-books
— has the most blow-up potential, with Amazon and Sony jockeying for position ahead of the launch of the iPad's iBooks application – a revolution that Steve Jobs hopes can do for book publishing what the iTunes store did for the music business.
"Amazon's done a great job of pioneering this functionality with the Kindle," Jobs said at the launch event. "We're going to stand on their shoulders and go a little further."
Book publishers have long battled Amazon's insistence on pricing its e
-books at $9.99 for the Kindle, while Jobs said iBooks would charge about $14.99 per title for iPad editions. And Apple managed to strike deals with most major publishing houses, like Simon & Schuster, which will offer 7,000 e-book titles through the iBooks store at launch.
To underscore just how critical this battle, Rupert Murdoch even mentioned it on a News Corp. earnings call – and he, too, wasn't thrilled with Amazon.
But even Amazon is hedging its bet against the iPad. Last month, the retailer
unveiled a Kindle app for the iPad
, and said more than 450,000 Kindle books would be available on the iPad April 3. (Barnes & Noble also developed an e-reader app for the iPad, as it faces a similar threat with its Nook.)
Meaning: If the iPad really turns out to be a Kindle killer, Amazon could still survive as an e-book seller even if the Kindle does not.

Tech
CNET and CBS.com will be offering video content. But, interestingly, most tech and online publishers I've talked to don't have an iPad strategy – per se – out of the gate. Part of that can be explained in the bootstrap nature of most dot-com startups – which generally don't have the time or resources to devote to developing iPad versions of their sites the way magazine publishers do. The other part is o
ne of the biggest pre-release gripes about the iPad: no Flash
.
Apple and Adobe are
embroiled in a war
over the inclusion of Flash on the iPad – and Apple apparently prefers HTML5, while most sites, particularly those with video, aren't built that way.
"It looks like Apple is continuing to impose restrictions on their devices that limit both content publishers and consumers," a group of developers wrote on Adobe's official blog shortly after the iPad was unveiled. "Without Flash support, iPad users will not be able to access the full range of web content, including over 70% of games and 75% of video on the web."
By tech publishers, I'm not including those who develop apps for the iPhone – technology that the iPad will support. Apple said it has already begun accepting iPad app "applications" – but how many Apple will accept is not yet clear. Ultimately, like everything else, it'll be up to Steve Jobs.

More to read: