With just a few days of release under its belt, Prime Video's "Lord of the Rings: The Rings of Power" managed to top two Nielsen top 10 streaming charts.
"The Rings of Power" landed at the top of streaming programs and streaming original programs charts. This week's release from Nielsen covers titles available on streaming from 8/29 to 9/4. "Rings of Power" came out Sept. 1, so only had a couple of days to hit the top spot with the two episodes it offered at launch.
The Top 10 Streaming Programs list includes film and TV titles that can also come from linear television. On that chart, the Netflix buddy comedy, "Me Time," took second; the long-running CBS procedural "NCIS" (which is available to watch on Netflix) took third; and then HBO's "Game of Thrones" and "House of the Dragon" took fourth and fifth, respectively. It's worth noting that "House of the Dragon" is an HBO property that airs on linear TV Sunday nights at 9 p.m., so the total numbers of minutes it was streamed during the week doesn't address how many were viewed by folks watching through good old cable.
Rounding out the first list were all shows on Netflix — the limited series "Devil in Ohio"; the children's program "Coco Melon"; "Grey's Anatomy," which will shortly return to ABC for its 19th season premiere; "Stranger Things," which has been on the charts all summer; and the twisty limited series starring Michelle Monaghan as twins, "Echoes."
"The Lord of Rings: The Rings of Power" took the No. 1 spot on the Top 10 Streaming Original Programs list, aka shows that originate from that streamer. It was followed by "Devil in Ohio" in second, "Stranger Things" in third," "Echoes" in there at fourth, and the true crime-esque "I Am a Killer" in fifth. (Spots two through five are all Netflix shows.)
Disney+ made an appearance at the sixth spot with the Tatiana Maslany-starring "She-Hulk: Attorney at Law," while Netflix finished off the list with "The Sandman" (seventh), "Virgin River" (eighth), "Partner Track" (ninth) and "Untold" (10th).
An HBO linear show counts as an "acquired program" on the Netflix Top 10 Streaming Acquired Programs chart on HBO Max, so after "NCIS" in the top spot, HBO Max's "acquisition" of "GoT" and "HoTD" are second and third, respectively.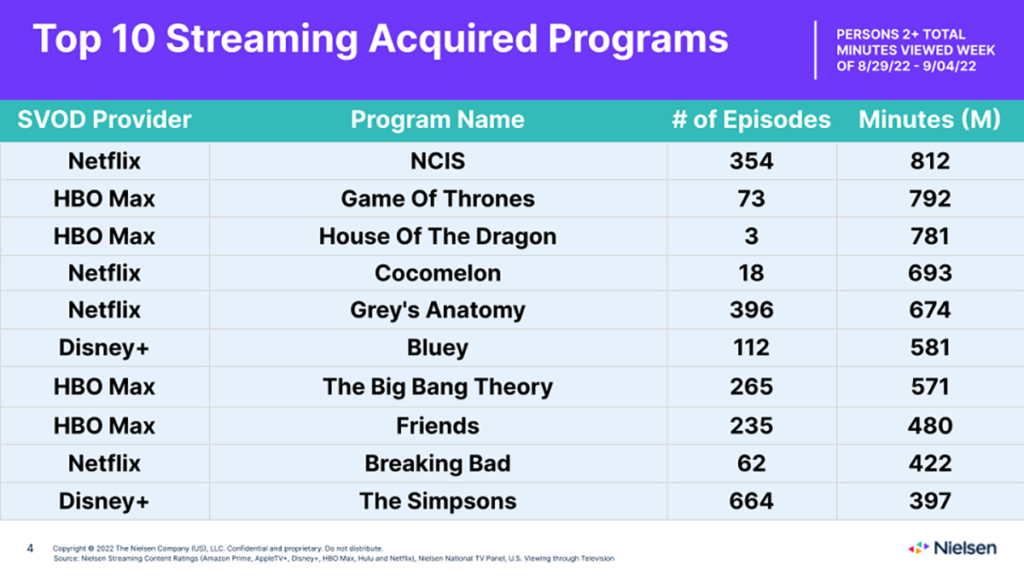 Nielsen only measures data from Netflix, HBO Max, Disney+ and Prime Video.