There's no taste like ham for the holidays, and that's the prevailing flavor in "Love the Coopers," writer-director Jessie Nelson's Christmas family reunion movie. It's sort of a mashup of "Home for the Holidays," "Love Actually," and some minor Cameron Crowe movie that's sprawling, awkward and contrived, yet brimming with goodwill toward men.
Diane Keaton and John Goodman play Charlotte and Sam, a four-decade couple putting off divorce to fake one last perfect Yule for their imperfect clan. Their daughter Eleanor (Olivia Wilde) a bitter liberal pill, picks up a kindly right-wing GI named Joe (Jake Lacy) to take to Christmas dinner as her ersatz date, because she can't bear the "antici-pointment" of waiting to see her mom's judgmental disapproval over her brittle, barren ways.
Son Hank (Ed Helms) pretends he's got a job, and contends with his coltish teen (Timothee Chalamet) and generic toddler (Blake Baumgartner), plus a middle kid with not enough to do in the movie (Maxwell Simkins).
Also Read: Will James Bond's 'Spectre' Crush 3 Female Filmmakers at Box Office?
Grandpa (Alan Arkin), a widower, is crushing on a waitress (Amanda Seyfried), but not in a creepy way. Somehow, it's heartwarming. Aunt Fishy (June Squibb) has a mild case of dementia that just makes her sweet and happy. Poor Marisa Tomei seems as alienated as her character, Keaton's resentfully single sister, trapped in a dead-end subplot with a troubled cop (Anthony Mackie) until she can make it to Christmas dinner.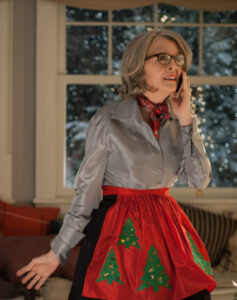 The narrator, who seems to talk even more than Jean Shepherd in "A Christmas Story," is the Coopers' dog Rags (Steve Martin, in folksy mode). Rags may be a nod to the robot dog in Woody Allen's "Sleeper," who also says things in excellent English, and adds "Woof! Woof!"
The screenplay by Steven Rogers ("Stepmom") is a dog's breakfast: a mess, like one of the dishes Keaton serves her family, a "Dump Salad." The vignettes sometimes resonate with the viewer but don't really connect into a plot, there are too many characters with too many stories and pretty good flashbacks, and some of the jokes are impossible to laugh out loud at unless you're a highly trained and paid actor.
See Video: War on Christmas: Wrap Trends
Even so, these performers are the genuine article even when their dialogue is jive, and Nelson's formidable niceness somehow powers us right through the longueurs to the touching and amusing parts, of which there are many. Her over-obvious style contains subtle truths about the  romance of family. She works hard to make it so that every member has a sound point and is partly right, no matter how appalling their critique of somebody else. It's formulaic, but at least it hews in the direction of emotional realism.
"Love the Coopers" does, at least, sound sensational, with "Little Miss Sunshine" composer and DeVotchKa rocker Nick Urata, aided by "music archivist" T-Bone Burnett, who assembles a mix of Christmas carols old and new, including ones by Robert Plant and Alison Krauss, Fleet Foxes, The Cats and the Fiddle, and Bob Dylan.
See Video: Finn Wittrock Gets the Girl, Makes the Team, and Suffers Brutal Injury in 'My All American' Trailer
When it's all said and done, you might not exactly love the Coopers, but you'll probably slurp them down like eggnog and wind up with a pleasant, sleepy, bough-scented buzz, like one of the boozier members of the family. Concession stands should strongly considered providing spiked nog.