And then there were three.
The embargo has lifted on Peter Jackson's film "The Lovely Bones," one of the four big films that had remained largely unseen, and then seen but not written about, until late in the Oscar season.
And the news is mixed for Jackson and the film he made from Alice Sebold's bestselling novel about a teenage girl who is brutally raped and murdered, but then hangs around to watch over her family and narrate the story from heaven (or a waiting area on the way to heaven).
No sooner had "Lovely Bones" premiered at the Royal Gala in London on Tuesday night than British reviews began appearing; Harry Knowles raved on his Ain't It Cool News website; and then others began chiming in, including mixed notices from both Hollywood trade papers.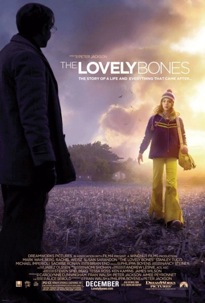 I'm seeing it this weekend, so I can't tell you what I thought yet. But here's the roundup of what others thought about one of the Oscar season's biggest question marks, from positive to negative:
Ain't It Cool News saw it early (Knowles has a good relationship with Jackson and Paramount) and, surprise surprise, went nuts for it: "This is an incredibly lovely film. From the visuals to the performances to the story-telling and film work… it all goes to capture a very powerful story in a way that makes you want to hug those close to you."
The Sun says it's Jackson's best movie ("yes, even better than the 'Lord of the Rings' trilogy"), and references its 2010 British release date: "Sure, it is only November 2009, but your critic doubts he will see anything more astonishing, emotionally draining and life affirming than 'The Lovely Bones' in the next year."
Time delivers the most credible rave, calling it "creepy, dreamy" and asking, "When else has the obscenity of child murder been the cause of such gravity and grace."
Total Film has a few quibbles (mostly having to do with the schmaltz quotient), but its summation falls on the plus side of the ledger: "A sister film to 'Heavenly Creatures,' brimming with not just tears but imagination, thrills and verve. It's heart-on-sleeve, sure, but it also has a whiff of awards potential."
Screen Daily likes it, with reservations: "Peter Jackson's eagerly awaited film version of Alice Sebold's bestselling novel is sometimes exquisitely realised, sometimes frustratingly uneven … Jackson can't quite capture a fluid structural rhythm for the piece, even while individual sequences and creative decisions are spot-on."
The Hollywood Reporter, whose Kirk Honeycutt is clearly a fan of the book, didn't care for the changes that Jackson made: "Sebold's otherworldly meditation on unspeakable tragedy and hard-earned healing has been transformed by Jackson into something akin to a supernatural suspense thriller. A philosophical story about family, memory and obsession has regrettably become a mawkish appeal to victimhood."
Variety calls the film "a significant artistic disappointment," and lays the blame at the feet of Jackson's propensity for big effects: "Peter Jackson's infatuation with fancy visual effects mortally wounds 'The Lovely Bones' … Jackson undermines solid work from a good cast with show-offy celestial evocations that severely disrupt the emotional connections with the characters."
The Guardian allows a moment of grudging praise – it's not that 'The Lovely Bones' is a bad movie, exactly" – before going on the attack: "The screen version … is so infuriatingly coy, and so desperate to preserve the modesty of its soulful victim that it amounts to an ongoing clean-up operation."
With early reviews this varied, it's hard to predict what the Academy will think – though with 10 best-picture slots, it only takes a small but passionate batch of fans to get into the