George Lucas and Lucasfilm bring to mind one thing above all else — "Star Wars."
Yet in addition to launching two billion-dollar film franchises ("Star Wars" and "Indiana Jones"), Lucas has founded industry-leading visual effects, sound effects, gaming and animation divisions within his own company.
No wonder Disney, seeing gold in potential merchandising and theme parks (not to mention more "Star Wars" films), just shelled out more than $4 billion for the company.
The purchase marks the end of Lucas' reign atop his own company, which makes this the perfect time to take a look back at his groundbreaking history.
1971: Still in his 20s, Lucas founds Lucasfilm Ltd., the same year he releases his debut feature, THX 1138.
1973: The first film under the Lucasfilm banner is released: "American Graffiti," a slice of Americana depicting teenage life in the 1960s. Starring Ron Howard, it was one of the most successful films in box-office history and a critical success as well. It earned a Golden Globe for Best Musical or Comedy and five Academy Award nominations, including Best Picture and Best Director.
1975: Lucas founds Industrial Light & Magic, a groundbreaking visual-effects company, and Sprocket Systems (later Skywalker Sound), a sound-effects, editing, mixing and design division. Both companies are now leading practitioners in their respective fields, recipients of a combined 35 Oscars. ILM handles the visual effects for all of Lucas' films, many of Steven Spielberg's and several of the biggest franchises of the past 30 years, including "Pirates of the Caribbean," "Transformers," "Men in Black" and some of the "Mission: Impossible" movies.
Also Read: Will the Force Be With Disney's $4B 'Star Wars' Gamble – Without George Lucas?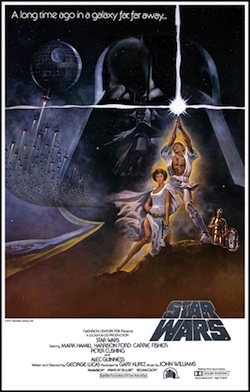 1977: "Star Wars." Need we say more? The film sets new box-office records, wins six Oscars and launches one of the biggest franchises and brands in Hollywood history.
1978: Lucas purchases a ranch in Nicasio, Calif., that would soon take the name Skywalker Ranch.
1979: Lucas expands ILM into computer graphics, hiring Ed Catmull, who would later bring aboard John Lasseter, the current head of Pixar. Lucasfilm also launches a licensing division for "Star Wars" products.
1980: "The Empire Strikes Back," the second "Star Wars" film, debuts in theaters. Now considered the best of the bunch by critics, it won two Oscars and took in more than $538 million worldwide.
1981: With "Raiders of the Lost Ark," Lucas helps launch another one of Hollywood's biggest franchises, this time in tandem with Spielberg. Lucas co-wrote and produced the film, which grossed close to $400 million worldwide and won four of the nine Academy Awards for which it was nominated.
That same year, ILM works on its first non-Lucasfilm project, "Dragonslayer."
Also Read: Disney to Buy Lucasfilm for $4.05B, Plans New 'Star Wars' Films
1982: Lucas launches Lucasfilm Games (later renamed LucasArts), the videogame arm of Lucas' empire. ILM and Skywalker Sound both work on "E.T.," winning three Academy Awards in the process.
1983: Lucasfilm concludes the first "Star Wars" trilogy with "Return of the Jedi," wrapping up the saga of Luke Skywalker and Princess Leia. It grosses $475 million.
1984: Indy returns in the "Temple of Doom" while Lucasfilm Games releases its first two games, "BallBlazer" and "Rescue on Fractalus."
1985: Lucas moves his team into Skywalker Ranch, and the Pixar Image Computer makes its world debut at the National Computer Graphics Conference.
1986: Lucasfilm sells its Pixar technology to Apple co-founder Steve Jobs. It would grow into one of the most successful film companies of all time, prompting Disney to buy it in 2006 for $7.4 billion.
1989: Indy concludes its initial trilogy with "Indiana Jones and the Last Crusade," and LucasArts releases a game based on the film — the first time one of its movies was turned into a game.
1990: Lucasfilm unveils the first THX home audio system at the Consumer Electronics Show.
ILM and Skywalker Sound earn Oscars for their work on "Terminator 2: Judgment Day."
The George Lucas Educational Foundation is established.
1992: Lucasfilm launches "The Young Indiana Jones Chronicles," a TV series that explores the youth of the eponymous character and goes on to win 11 Emmys.
1993: ILM uses computers to bring dinosaurs to life in Spielberg's "Jurassic Park," breaks new ground for animation and wins an Oscar for its visual effects (as well as sound editing and mixing).
1994: ILM wins an Oscar for "Forrest Gump," and Skywalker Sound wins two for "Speed."
1997: In commemoration of the 20th anniversary of the original 'Star Wars," Lucasfilm and Fox re-release the "Star Wars" trilogy. Devotees of the franchise bristle at Lucas' digital remastering — a computerized Boba Fett! — and slight changes, but box-office results validate the decision.
1999: Lucas directs the prequel "Star Wars: Episode I — The Phantom Menace," his first directorial effort since the original "Star Wars." It grosses more than $1 billion worldwide despite savage reviews and ushers in a new wave of characters, including the reviled Jar Jar Binks.
2002: The second of the prequel trilogy, "Episode II — Attack of the Clones," opens as the longest film in the series. It grosses just shy of $650 million.
Lucasfilm spins off audio company THX, paving the way for its continued expansion as an industry standard quality assurance system.
2004: Lucasfilm expands internationally, opening its first overseas studio in Singapore. ILM also becomes the first entertainment company to ever receive the National Medal of Technology.
2005: The final installment in the prequel trilogy, "Episode III — Revenge of the Sith," debuts and grosses just shy of $850 million. The "Star Wars" film franchise is over … or so it seems. The American Film Institute honors Lucas with its Lifetime Achivement Award.
2006: Lucas donates $175 million to the University of Southern California, his alma mater, through the Lucasfilm Foundation. Some $75 million of that money is earmarked for the construction of new buildings and renovation of existing facilities for the School of Cinematic Arts. The rest is used for a $100 million endowment for the school.
2007: The 30th anniversary of "Star Wars."
2008: Lucasfilm Animation sends "Star Wars: The Clone Wars" into theaters, while a TV series of the same name premieres on the Cartoon Network. An instant success, the show still airs on the network.
2008: Indy's back, this time in "Indiana Jones and the Kingdom of the Crystal Skull." Lucas is a producer and gets a story credit on the film, which makes $786 million.
2009: Lucas is inducted into the California Hall of Fame.
2010 : Lucas signs the Giving Pledge, a campaign spearheaded by Bill Gates and Warren Buffett that asks wealthy people to give the majority of their wealth to philanthropy.
May 2012: Lucas tells Empire Magazine that he is retiring to make more personal "hobby" movies.
June 2012: Kathleen Kennedy is hired as co-chairman of Lucasfilms, paving the way for Lucas' eventual retirement.
September 2012: Lucasfilm COO and President Michelline Chau retires, consolidating more control under Kennedy and again raising questions about the company's future.
October 2012: Disney purchases Lucasfilm for $4.05 billion, marking the end of an era and the beginning of a new one. Disney says it will release at least three new "Star Wars" movies — as Lucas predicts they could continue to make new films for 100 years.
Reference source: Lucasfilm.
For the Record: An earlier version of this post cited 1975 as the release year of "Star Wars." That film debuted in 1977.